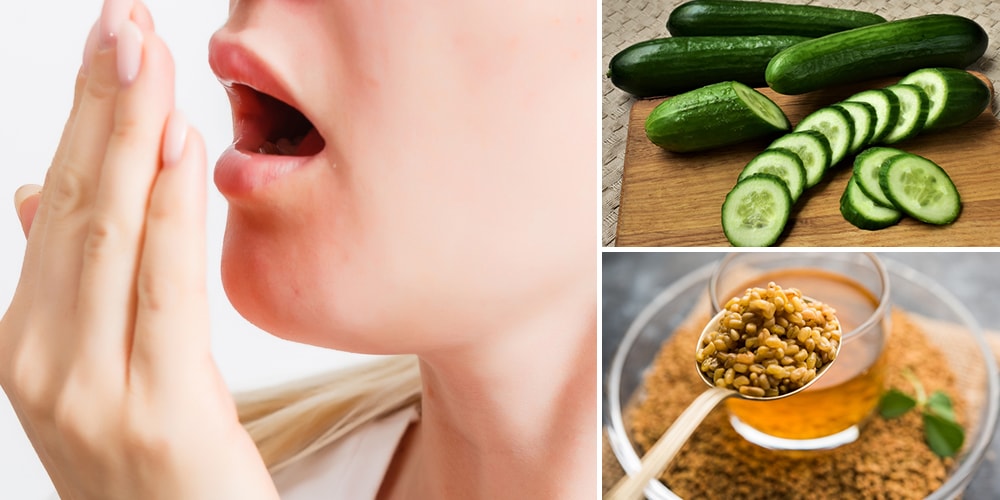 13 Foods Against Bad Breath
Having an unpleasant breath is a socially embarrassing situation to deal with. Bad breath can stem from many causes and is often easily remedied through lifestyle changes. Poor dental hygiene, smoking and eating certain foods are said to be the culprit in developing bad breath. But, did you know that bad breath can also be an indicator of a health condition or impaired metabolism?
What Causes Bad Breath?
Halitosis is the medical term for bad breath, exhibited by a foul smell from the mouth as the person breathes. It is generally caused by:
Eating certain foods
Poor dental practices
Dry mouth
Indigestion and digestive system issues
Smoking
Medications
Underlying health conditions
Eating spicy foods like garlic and onion causes bad breath because of their sulfur content that travels into the bloodstream. And because it carries over into the blood, brushing may not solve the dilemma and it can take some time for the smell to vanish.
If you have poor dental hygiene, the odor will say for itself. Mouth infections like tooth decay also result in stinky breath. Waking up to a morning breath is also quite common as a result of a dry mouth and decreased saliva production while you sleep.
Tobacco products and certain medications contribute to halitosis. The chemicals get carried into the blood and your breath which causes this annoying condition.
Bad breath that is not cured by eliminating triggers and practicing good oral hygiene can be something else. It will require a proper diagnosis to get to the root of the issue. It may be due to chronic nose and mouth conditions, GERD, cancer or metabolic disorder.
Foods Against Bad Breath
Getting rid of bad breath starts with eliminating the triggers and proper brushing and flossing. While you are at it, eating food that reduces foul breath also helps greatly.
Many aromatic spices have strong antimicrobial properties that ward off bacteria buildup in the mouth. They also facilitate better digestion and salivary production to prevent bad breath from dry mouth and alimentary canal problems.
Parsley
Parsley (Petroselinum crispum) is a common ingredient and garnish for soups, salads and pasta. It contains aromatic oil that gives off a distinctive flavor and scent. Parsley has antimicrobial properties that kills the bad oral bacteria that cause bad breath.
Using parsley for bad breath is as simple as chewing its leaves. It is a healthier alternative to mint strips and gums you would normally use as a breath freshener. So next time you sit for a salad at a restaurant, save the leaves for eating at the end of the meal. Or, you can incorporate it into home-cooked meals to boost your overall oral health.
Guava

The leaves and fruits of the guava tree (Psidium guavaja) are a traditional brushing alternative used by folks for so many years. Its unripe fruit is rich in tannic, oxalic, malic and phosphoric acids that heal bleeding gums and treat bad breath. It also cures sore throat and curbs the growth of bacteria.
There are two ways you can use guava for oral health benefits. First is eating its fruit, including the skin where its medicinal properties are concentrated. Or, you can take young guava leaves and crush them into a paste. Rub the paste directly on the teeth or by using a toothbrush. Do it daily to achieve fresher breath and whiter teeth.
Apple
Eating an apple is probably one of the longest-known and simple health hacks for reducing bad breath caused by food. Apple is most especially beneficial in masking bad breath caused by garlic. It has polyphenol compounds that neutralize the odor as the sulfuric acid travels in the bloodstream. Apple also helps re-balance the oral ecology to ward off the foul odor.
Cloves

Clove (Syzygium aromaticum) is a popular remedy for toothache and dental pain. Clove tooth gels and oil are excellent anesthetics to ease dental pain. The eugenol compound has an anesthetic property that also works as an antiseptic for fighting oral bacteria that cause halitosis.
To fight off bad breath instantly, suck or chew cloves a few times a day. Or, you can add 1 to 2 drops of clove oil to a cup of green tea and drink it twice a day. You can also add a couple of drops to a pint of vodka and use it as mouthwash once a day.
Avocado
Eating an avocado works wonders on the gut microbiota that ultimately helps freshen breath. Bad breath, as you know, can stem from digestive issues. Clearing the gut and alimentary canal from bad bacteria also removes foul odor emanating from the mouth.
Fenugreek

Fenugreek (Trigonella foenumgraecum) is an effective remedy for bad breath caused by catarrhal infections. It clears mucus and sinus inflammation and hastens recovery. Fenugreek also cures canker sores that contribute to bad breath.
To give yourself a quick fix, soak a cup of fenugreek seeds in a cup of water overnight. Strain and take this once a day until the problem is resolved.
Lemon
Lemon (Citrus limon) is well-valued for its antibacterial property that fights many types of infections. It curbs the growth of oral bacteria that causes ailments like gingivitis resulting in bad breath. Lemon is an effective mouthwash for freshening breath and whitening teeth.
If you have a nasty-smelling breath, take half a lemon and squeeze its juice in a glass of water. Use the lemon water as a gargle twice a day, once in the morning and at night to solve the problem.
Cinnamon
Cinnamon (Cinnamomum verum) is an aromatic spice with a range of healing properties. While it is commonly used in confectioners or taken with milk or as tea, cinnamon also proves to be an efficient mouthwash. It kills harmful oral bacteria that cause plaque without compromising the structure of the teeth.
Here is a potent mouthwash recipe for you to try against halitosis.

Ingredients:
½ tsp ground cinnamon
4 tbsp lemon juice
2 tsp honey
1 cup water
1 tsp baking soda
Steps:
Warm the water in the microwave (but not boiling) just enough to dissolve the honey.
Put all the ingredients in a mason jar and pour the warm water over them.
Shake the jar to mix all the ingredients completely.
To use, take a sip of the mouthwash and swirl it all over the mouth for about a minute. Use it twice a day or anytime you need a quick fresh breath fix.
Mint
When it comes to a breath freshener, the list is not complete without the superior mint (Mentha spp.) It is widely used in many oral care products for its excellent mouth-freshening properties. Chewing fresh mint leaves daily boosts the production of saliva to cleanse away odor-causing bacteria. It also masks the odor leaving you with a satisfying and refreshing feel in the mouth.
Cucumber

Many fruits and vegetables help improve saliva production which rinses the mouth from bacteria. Cucumber (Cucumis sativus) is one of the excellent veggies on the list that flushes away odor-causing germs from the mouth.
For foul breath, you can eat cucumber or get an instant result by pressing a slice in the roof of your mouth. Let it sit for about a minute or two to effectively curb the growth of harmful oral bacteria.
Sweet Cherries
Bacteria built up in the mouth produces a stinky gas called methyl mercaptan. Cherries (Prunus avium) have the ability to destroy such odors by breaking up the gas. Eating cherries also helps digest food debris left in the mouth where these bacteria thrive. There is no complex process for preparing cherries. You can simply snack on sweet cherries.
Probiotic Yogurt

Yogurt is an excellent food for restoring the proper balance of gut bacteria and clearing digestive issues. A healthy gut microbiota curbs the foul smell that exhausts into the mouth. Yogurt is high in vitamin D which reduces the growth of harmful bacteria anywhere in the body.
Eat three ounces of probiotic yogurt once a day for six weeks to resolve bad breath from different causes.
Green Tea
Green tea is praised for its antioxidant properties that work against many illnesses. It has polyphenols that are also beneficial in boosting oral health. Polyphenols reduce the sulfur compounds in the blood and inhibit the growth of oral bacteria. Green tea aids in digestion by preventing odor-causing gas from escaping into the oral cavity.
Take green tea in between meals to resolve foul-smelling breath problems.
Takeaway
Raw fruits, vegetables, some herbs and spices are a true and tested method for alleviating bad breath. Bad breath is not a disease by itself although it might be a symptom of some underlying problems. Eating the right foods that increase saliva production is one way of dealing with this situation. You should also avoid foods and products that worsen it.
If home remedies and oral hygiene do not resolve bad breath, your healthcare provider can do a series of tests to determine its causes and possible treatment.