Best Homemade Cough Syrup Recipes
Suffering from sore throat and cough may be a common occurrence, but that doesn't mean that those are welcome symptoms. It makes talking, eating, and drinking uncomfortable that you wish for it to be gone as fast as it appeared. While there are many sore throat and cough syrups being commercially sold in the market, I still prefer the herbal and homemade ones.
My affinity with herbs and spices brought me to try various remedies that I can make use of at the comfort of my own home. I love such remedies because they are natural and free from any harmful side effects that laboratory-made drugs contain. So for this article, I want to share with you the best sore throat and cough syrup recipes that I have tried.
Sore Throat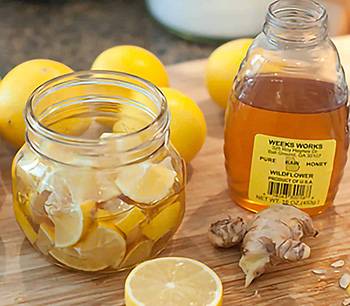 Ginger 
Ginger (Zingiber officinale) is one of the best natural herbs that is always present in my pantry, and it's all for good reasons.
It is a staple for most of my meal preparations, but it is also a very handy herb for many ailments such as the sore throat.
Here's a simple guide on how to make a ginger syrup laced with honey and lemon for sore throat.
Ingredients:
1 to 2 lemons, sliced

2 tsp freshly grated ginger

½ cup honey
Steps:
Fill a half-pint jar with half the lemon slices.  Add 1 tsp of freshly grated ginger, and ¼ cup of honey.

Stir everything so that the honey can cover all of the lemon slices.

Repeat the procedure with the rest of your ingredients. The lemon should take ¾ of the jar space. If there is still more space in the jar, you can add more honey to soak everything.

Leave the mixture for 3-4 hours. Store in a refrigerator. This homemade sore throat syrup can last for 2-3 months.
How to use:
Stir the syrup before using it so that the honey will mix well with citrus and ginger. Take 1 or 2 tbsp of this syrup daily to ease your sore throat.
Cough
There are many different types of cough from dry to wet, from croup to paroxysmal, amongst others. But most often, they share the same remedies to relieve the symptom. However, it is still advisable to seek your doctor's advice, especially when there is an underlying condition that might need urgent medical care.
But to help alleviate your discomfort, you can follow these homemade cough syrup remedies.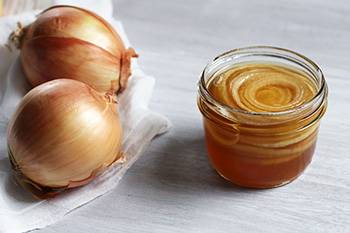 Onion Cough Syrup
You need:
Glass container with lid

An Onion that fits into the container

Honey
Method:
Peel your onion. Slice it into rounds (which will fit into your jar.)

Layer onion and honey in the jar.

When the jar is full, cover it and set it at room temperature for 6-8 hours until a syrup forms.

Ready to use! Simply eat a spoonful of this syrup as needed to soothe your cough. Store in the refrigerator.
Note: You can strain out the onions once the syrup is done, but it is not necessary.
Apple Cider Vinegar With Cayenne
Apple cider vinegar is a very helpful staple in your kitchen. It provides a lot of health benefits, especially when treating cough. A simple combination of ACV and honey can help relieve sore throats too.
The recipe mix I'm sharing below makes use of other ingredients like cayenne (Capsicum annuum) and ginger. It will surely chase your cough away. Note, however, that cayenne and ginger may be too hot of a combination so children and some adults who do not like spicy stuff may not be able to tolerate this cough syrup.
Ingredients: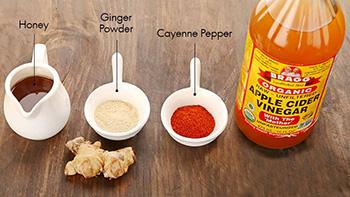 2 tbsp apple cider vinegar

2 tbsp water

2 tbsp honey

¼ tsp cayenne pepper

¼ tsp ground ginger
Steps: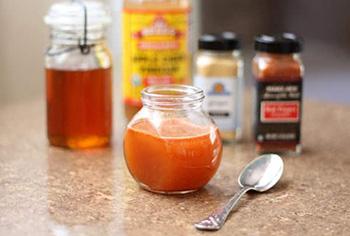 Mix all ingredients in a jar and shake well.

Store in a dark cool place.
How to use:
You can warm the syrup before using it if desired. Shake well and take 1 to 2 tbsp as required to alleviate your cough.
Honey and Thyme
Honey is a natural remedy for a lot of ailments. When combined with other herbs and spices, it becomes a powerful agent that treats various symptoms. A cough syrup that combines honey with thyme (Thymus vulgaris) is an effective and simple treatment that you should give a try too.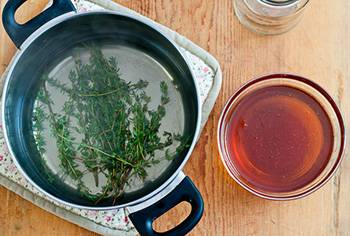 Ingredients:
2 cups water

1 cup raw honey

3 tbsp dried thyme
Steps:
In a small saucepan, bring water to a boil. Remove from heat.

Add thyme. Cover and leave for 10 minutes.

Strain. Whisk in honey until it is dissolved.

Transfer in a glass jar and store in a refrigerator. This can last for 2 months.
How to use:
Drink 1 to 2 tsp as needed whenever your cough is irritating you.
Whooping Cough
Whooping cough, also called pertussis, is a contagious infection of the respiratory tract. While it can go away on its own since the bacteria that cause the infection dies naturally in 3 weeks or so, it is still recommended to treat symptoms to ease the discomfort. Thus, here comes the homemade whooping cough syrup remedy that I want to share to you.
Ingredients: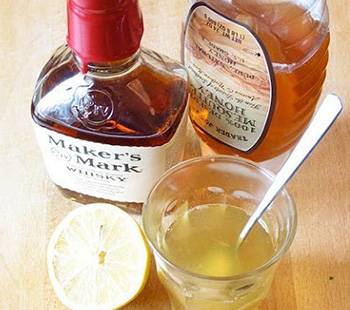 1 tbsp honey

1 tbsp olive oil

 1 tbsp whiskey

1 tbsp lemon juice
Steps:
In a small container, mix everything together.

 Store in a dark cool place.
You can make a large batch of this homemade syrup. Simply mix equal parts of the ingredients on an air-tight container. But I highly recommend that you mix a fresh one every time you drink it because nothing beats a freshly-made syrup.
How to use:
Take 1 tsp three times a day of the mixture.
Cough and sore throat can be managed well with homemade remedies. But please note that these remedies are not intended to substitute any medications given by your physician. You should always consult your doctor if your symptoms of cough and sore throat are chronic and keep on coming back. Also, seek medical attention immediately if chest pains or difficulty breathing occurs alongside your coughing and sore throat symptoms.
You may also like: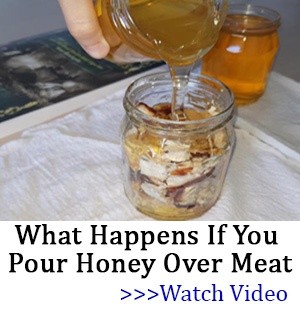 How I Make My Own Cough Mixture
The "Super Plants" Every Stockpile Needs (Video)
43 Remedies from My Childhood that Still Work Today
What Happens If You Add Cinnamon To Your Honey Jar