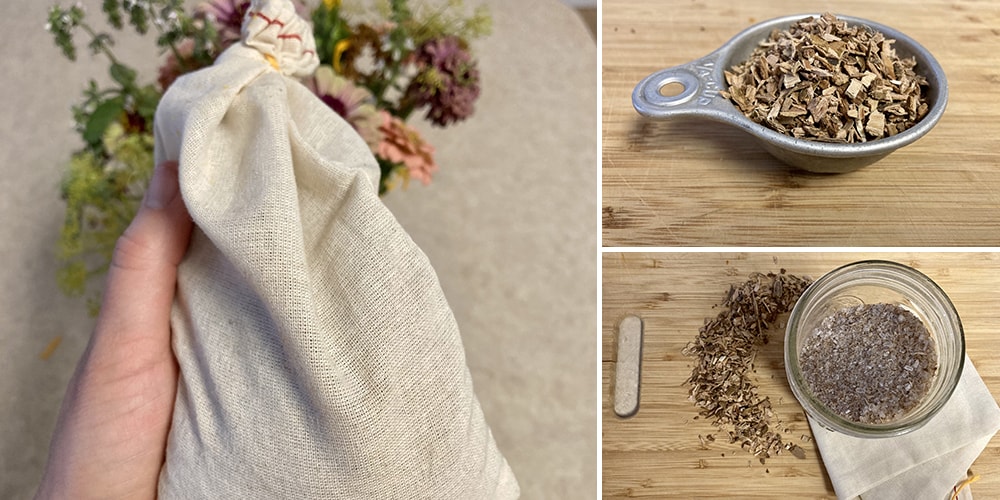 Willow Bark Bath Salts for Inflammation
After a long and hard day, inflammation afflicts us all. And when you're settling in for the evening, there's nothing better than a warm bath. Combining the anti-inflammatory power of willow bark with the calming properties of Epsom salt, this recipe is the perfect addition to your bedtime routine. After a soak in this mixture, your achy joints and muscles will thank you. Here, I'll share a simple willow bark bath salts recipe for alleviating inflammation.
The Healing Properties of Willow Bark

Willow trees belong to the Salicaceae family along with birches, aspens, and cottonwoods. The Salix genus separates over 300 species of willow shrubs and trees that grow in moist and temperate ecosystems around the world. As a whole, the genus is well-known in folk medicine as a source of biologically active compounds. But these two species, white willow (Salix alba) and black willow (Salix nigra) are most commonly used for medicinal purposes.
Willow bark is harvested from the branches of 2–3-year-old trees. The bark is stripped down to the inner layer and then dried.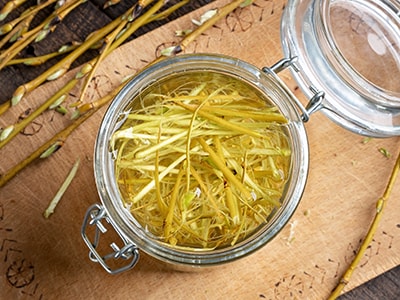 It's clear from history that willow has time-honored medicinal properties that provide solace from the discomfort of inflammation.  Named after the Salix genus, the compound salicin is at the heart of willow bark's healing properties. Salicin is a precursor to the synthetic compound acetylsalicylic acid, more commonly known as aspirin. This compound functions as a powerful analgesic and anti-inflammatory agent, effectively alleviating pain.
When incorporated into bath salts, salicin infuses the water with its therapeutic qualities and gently eases muscle tension and joint discomfort. As you soak, the salicin permeates your skin, working in harmony with your body's natural processes to provide relief.
Beyond salicin, willow bark contains an array of flavonoids – naturally occurring compounds renowned for their anti-inflammatory and antioxidant properties. These bioactive molecules play a crucial role in combating oxidative stress and modulating the body's inflammatory response.
⇒ How to Make Bark Bread from a Tree That Grows on Almost Every Street in America (Video)
Willow Bark Bath Salts Recipe
Though the willow bark is the star of the show, we can't have a bath salt recipe without mentioning the benefits of magnesium sulfate on joint health. Epsom salts, composed of magnesium and sulfate, have earned their place as a trusted remedy for soothing joint pain and discomfort. When dissolved in warm water and absorbed through the skin, these minerals work synergistically to provide relief. Magnesium, a natural muscle relaxant, helps ease tension, while sulfate supports detoxification processes in the body.
Ingredients and materials:
1 cup Epsom salt
1/4 cup dried willow bark (finely ground)
10-15 drops of your favorite essential oil (lavender, chamomile, or eucalyptus)
Glass jar
Muslin bag
Method:
Step 1: Grind willow bark
Measure out ¼ cup of willow bark, then grind it in a spice grinder for at least 30 seconds. When adding herbs to bath salts, you can choose to leave them whole or grind them into a powder.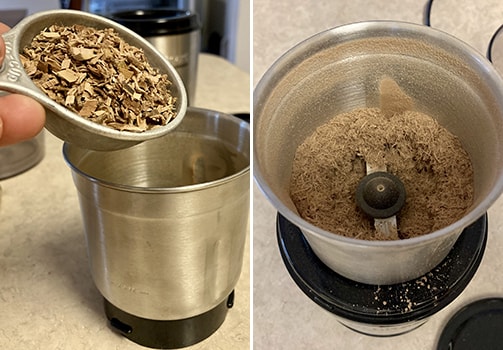 Step 2: Mix with Epsom salt
In a mixing bowl, combine the Epsom salt and the ground willow bark. Add the essential oil drops to the mixture and blend thoroughly to distribute the aroma.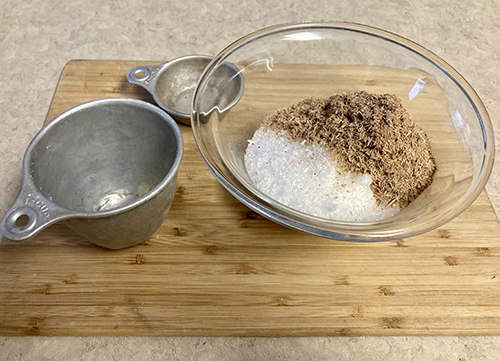 Step 3: Store or Enjoy
Transfer the mixture into a sealed glass jar to preserve its freshness and scent. When ready to indulge in a soothing bath, pour the salt mixture into a muslin bag and hang it below the faucet.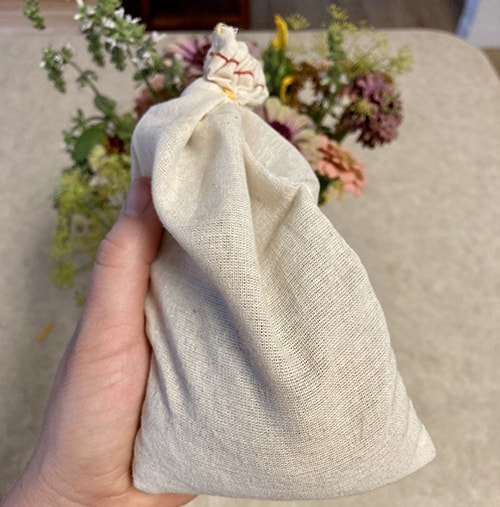 Allow the salts to dissolve, releasing their healing essence. Toss the herbs in the trash after use and rinse the bag so you can use it again later.