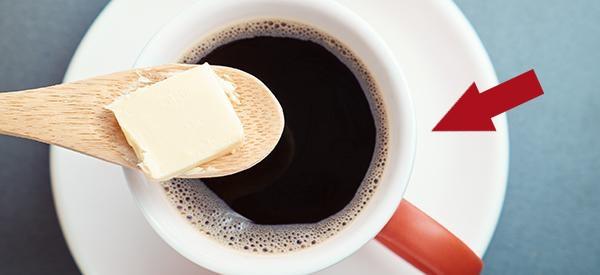 What Happens When You Put Butter In Your Coffee?
Butter? In your coffee? Yes, this sounds a little strange, but give it a chance and give us a chance to explain the benefits of this combination. Blending butter into your coffee can surprisingly give you a range of different health benefits and can help power through your day with an added boost. Here we will outline what really happens when you put butter in your coffee.
There are some surprisingly great benefits when you add a little butter to your coffee in the morning! This includes:
Fat-burning effects: Although fats are hated by diet culture, butter actually has a range of different health benefits, which can have fat-burning effects.
Great source of healthy fats: This coffee and butter trick is commonly used by people who follow the keto diet, they will frequently prefer to drink this, rather than eat breakfast. It is favored due to its high-fat levels and low carbohydrate levels.
Weight maintenance: Healthy fats are great for your body and help to keep your skin, hair, and body in great condition. Healthy fats also slow digestion and this, in turn, creates a feeling of fullness for more time. This feeling of fullness means that you will likely consume fewer calories in a day, which can help with weight loss or weight maintenance.
Balance your energy levels: These fats also supposedly help with improving and balancing energy levels, suppressing excessive hunger levels, and even boosting your brainpower throughout the day!
Healthier alternative: It is a way to give your coffee a creamy and thick texture, without adding cream, sugar, and other unhealthy things and hundreds of calories.
Reduces caffeine sensitivity: If you have ever experienced caffeine jitters, you know that they can be uncomfortable and distracting, the fat from the butter forms a lining on your stomach which means that acid activity is calmed, and the jitters are also calmed.
Why did butter coffee become popular?
This beverage emerged in the early 2000s as a way to improve energy levels and provide slow-release energy throughout the day. However, in reality, this drink has been around for hundreds of years. It is not a new concept to add fats to coffee and many ancient societies practiced this method of making coffee.
It regained importance in the weight-loss community, especially those following the keto diet. This is because it is a way to consume calories without ingesting carbohydrates and contains high levels of fat which can invoke ketosis, aiding the process of weight loss. In addition to this, its ability to satiate cravings means that it can be a useful tool for weight loss for people who crave sugary foods or carbohydrates or generally overeat during the day.
How do you make butter coffee?
The most common way to prepare butter coffee is to blend the butter into filter coffee. When the butter is blended into the coffee, it ensures that the fats do not separate from the liquid of the coffee. It instead becomes a creamy drink, almost as if you had prepared the coffee with milk.
Butter coffee is often consumed in place of breakfast by those following a keto diet, which is high in fat and low in carbs.
Here's an example how to make butter coffee:
Brew about 1 cup (8–12 ounces or 237–355 ml) of coffee.
Add 1 tablespoon of coconut oil.
Add 1 tablespoon of unsalted butter, or choose ghee, a type of clarified butter lower in lactose, if you don't eat regular butter.
Mix all ingredients in a blender for 20–30 seconds until it resembles a foamy latte.
You will need a high-quality blender and preferably one that can handle hot liquids being blended. It is worth noting that a stick blender or a normal cheap blender will not properly blend your butter coffee and you will most likely end up with lumps of fat in your coffee, instead of the smooth, creamy latte texture that you are trying to achieve.
Sometimes butter coffee is also called bulletproof coffee, though there are a few differences between the two. Bulletproof coffee is made by mixing black coffee, and unsalted butter, and adding MCT oil. Adding the MCT oil which contains medium-chain triglycerides makes the coffee an instant source of energy and is an instant metabolism booster.
You can make a very smooth and strong drink by using cold brew, but really you can use any type of coffee with the butter to make the drink.
There are also different alternatives to dairy butter if you are vegan, lactose intolerant or simply don't want to consume dairy. You can use coconut oil or cacao butter to give the coffee a similar texture and reap the health benefits of adding healthy fats to your coffee.
There are also questions about what butter you should use. It is most recommended to use grass-fed butter, as it has more vitamins and is generally healthier, however you can use grain-fed butter if that is what you have or what your local store sells
Mistakes When Making Butter Coffee
If you use too much butter or too little butter you will destroy the taste of the drink, you should use a tablespoon of unsalted butter and a tablespoon of MCT oil if you are making bulletproof coffee. Do not add more butter than one tablespoon, as this could have negative effects on your health and upset your stomach.
Not using a proper blender: do not use something like a protein shaker or a hand blender. Also, do not just throw a stick of butter into your coffee. You must blend the fats properly and achieve emulsification.
Using low-quality butter is one mistake if you are trying to make a high-quality drink with health benefits, try to use the best quality butter that you can find, this will improve the flavor, texture, and benefits of your coffee.
When should you consume butter coffee?
The most typical time to consume butter coffee is in the morning as a high-fat, low-carbohydrate breakfast. It is high in calories, so it is recommended to limit your intake of this type of coffee, however, it is a good source of slow-release energy to help you balance your energy levels throughout the day.
Many people proclaim that butter coffee is just as good, if not better than an energy drink and they like to drink butter coffee before taking part in sports and other activities.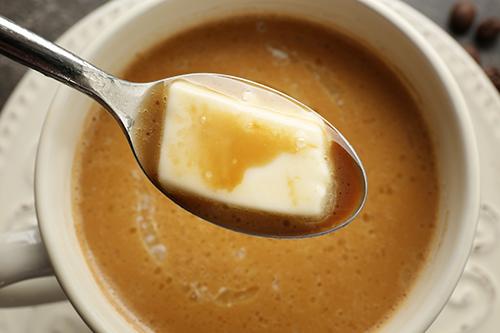 It is also a great option for people who don't usually eat breakfast, or can't eat an entire meal in the morning when they wake up. This will provide you with enough energy to start your day, while not filling you up or bloating you.
If you eat a high-carb breakfast in the morning, your insulin levels will spike to break down the carbohydrates. Then your insulin levels will drop again, which will make you crave more sugar to stabilize the insulin levels. This is why you feel hungry after eating high-carb meals. Butter coffee, however, has the opposite effect, the energy is slowly released, and your digestion is slowed down, this means your insulin levels do not spike, therefore you will not have cravings throughout the day.
⇒ Add This "Unusual Nutrient" to Coffee or Tea, to Effortlessly and Fully Empty Your Bowels Every Single Morning (Learn More)
Is butter coffee actually good for you?
Butter coffee is a good source of antioxidants and can be a healthy way to boost your energy levels. However, the fact that it is so high in calories could lead to excess calorie consumption and therefore weight gain if you are not watching your calories intake. The trick is to monitor your daily calorie intake and ensure that you are not consuming too much butter coffee.
Furthermore, the increased fat levels could increase the risk of cardiovascular disease. It is also not a whole or complete food and lacks vitamins. Therefore, if you want to add butter coffee to your diet, it is recommended to add it to a healthy, balanced diet with fruits, vegetables, and proteins. This will ensure that you are providing all of the right vitamins and minerals to your body.
You should also be aware that there are many variants of butter coffee with include other ingredients such as milk, cream, or dairy. These versions are not as healthy as the butter coffee that is being discussed in this article.
If your body is not used to consuming high levels of fat, it is highly recommended to gradually introduce small quantities of the butter or coconut oil in your coffee and increase the quantities in line with how your body adjusts to the extra fat intake.
You should also be aware of what you are already consuming in your diet, if you already consume red meats and other dairy products, it might be wise to limit your intake of high-fat options such as butter coffee.
If you are concerned about any pre-existing cardiovascular issues and your cholesterol levels in general, you should consult your doctor and ask for guidance as to whether introducing butter coffee into your diet is safe and good for your overall health.
Overall, blending butter with your coffee provides health benefits and allows you to regulate your energy levels throughout the day. Many people swear by consuming butter coffee as part of the keto diet and as a replacement for breakfast. It is said to promote fullness and can even provide benefits to your hair and skin. However, you should be aware of the high caloric content, so as not to overconsume calories and gain weight and you should be aware of the high-fat content and how this fits into your normal diet.
You may also like: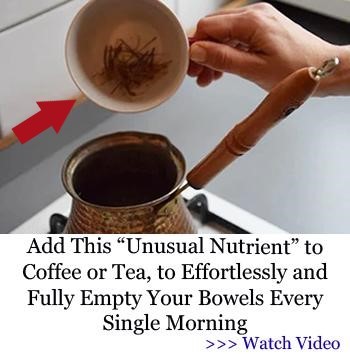 Better Than Espresso: Chaga Mushroom Coffee
Transform Your Favorite Tea Into an Absolute SUPER Fat-Burning TEA By Doing This (Video)
Herbal Coffee Substitutes You Can Drink Every Morning
DIY Onion Juice To Burn Belly Fat