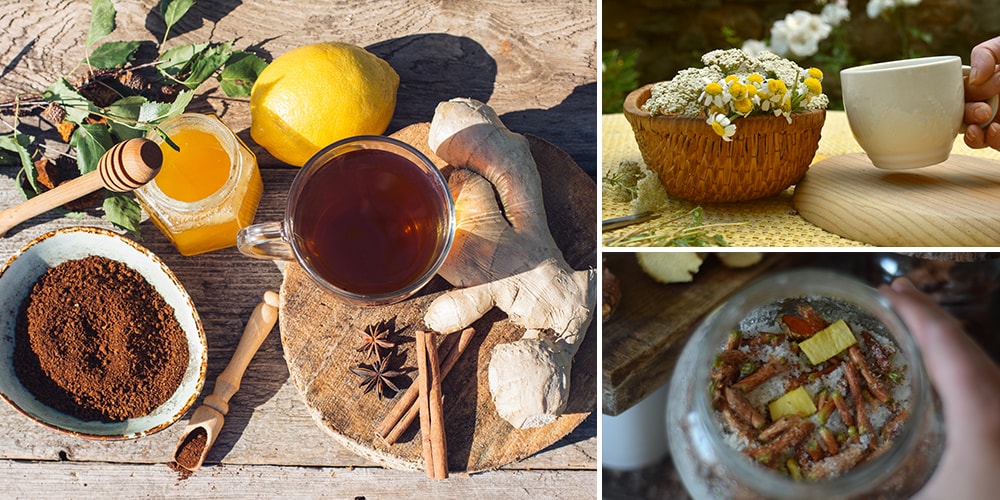 The Natural Pain Management Protocol You Need
If you've ever taken pain medicine, I suggest you read this article as I will show you the best way I've found to calm pain naturally.
Taking medicine has become part of our daily lives, just like brushing our teeth or washing our faces. This is why our bodies get used to it and the drugs don't have the same effect anymore.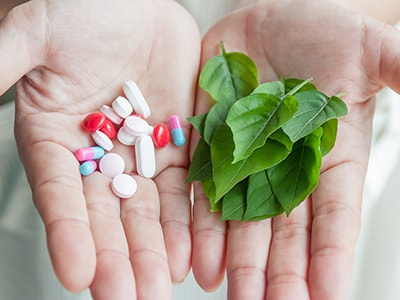 Switching to a natural pain management protocol is not only healthy for your body but gets rid of side effects and possible addiction.
I followed a pain management protocol from The Holistic Guide to Wellness: Herbal Protocols for Common Ailments and I decided to share my experience with you.
I had been fighting nagging lower back pain for a few months, and after a doctor's checkup revealed there was nothing to worry about, I started taking nonsteroidal anti-inflammatory drugs (NSAIDs) to alleviate the pain.
I'm sure there's been a time in your life when you were in pain and had to rely on this type of drugs to cope with it. Maybe you also went the extra mile and researched the side effects these drugs have when taken long-term. And just like me, you were probably terrified!
Luckily, there is a better way—a natural way that I found here.
In this comprehensive book, you'll find 45 protocols for different health conditions. Here is the full list.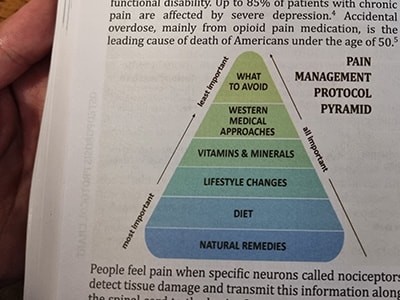 What you'll notice in each protocol is that it starts with a layered pyramid. The pyramids prioritize the importance of things you need to do. The lower the level, the more impact it will have on your recovery.
Then you'll discover different treatments or remedies for each layer. The book is extremely practical; you can just open it and start following it.
At the end of each protocol, you'll find a weekly chart. This chart will give you a sample plan that includes the interventions discussed in the chapter.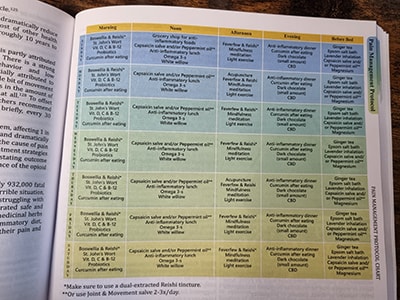 It also shows you a way to include them in a plan of action for the week, addressing that specific health concern.
I decided to start following the pain management protocol after reading this chapter and focused first on the lowest three pillars of the pyramid: natural remedies, diet, and lifestyle changes.
Natural Remedies
Peppermint Oil (Mentha piperita): Topical use of peppermint oil is effective in treating pain. Research has shown peppermint oil to be effective in treating a number of conditions, including neuralgia, headaches, and arthritis.
My way of including this oil in my routine was to combine it with fractionated coconut oil and lightly massage my back four days a week.
NOTE: Due to their high concentration, essential oils should always be diluted before topical use.

Inhalation of Lavender (Lavandula angustifolia): Lavender is well known for its calming, anti-inflammatory, and antioxidant effects. Studies have shown that inhalation of lavender oil can relieve pain.
So, I bought an air diffuser and essential lavender oil, which I used daily for a couple of hours in my bedroom.
The smell was amazing, so it was easy and pleasant to include this ritual into my daily life.
Diet
One of the suggestions in the book was to adopt an anti-inflammatory diet. The consumption of anti-inflammatory foods is associated with a decreased risk of dementia, rheumatoid arthritis and other autoimmune disorders, heart disease, cancer, diabetes, and nonalcoholic fatty liver disease. Additionally, an anti-inflammatory diet is linked to a longer lifespan.
Foods that are considered anti-inflammatory include foods that are high in antioxidants. These antioxidants neutralize the free radicals in the body that cause mutations that lead to cell damage.
Here are some of the foods I included in my daily meals: vegetables (kale, Brussels sprouts, bell peppers, broccoli, cabbage, wild greens, etc.), fruits (berries, grapes, cherries), healthy fats (avocado, nuts, salmon, sardines, olives, olive oil, avocado oil), spices (turmeric, cinnamon, oregano, etc.), green tea, and dark chocolate.
Lifestyle Changes
For the third pillar of the pyramid, the book suggests a good number of ways to change and improve your lifestyle. I decided to include just two as it was easier to fit them into my busy schedule:
Epsom Salt Bath (magnesium sulfate): Bathing activates the parasympathetic nervous system, a part of the body responsible for relaxation. According to experts, it can reduce inflammation and water retention and increase metabolism. So twice a week, I enjoy a warm bath after a long day at work.
Sleep: The link between sleep and pain is well documented. When you are asleep, the body repairs cells, restores energy, and releases important hormones and proteins. Poor sleep not only affects general health but has a direct impact on inflammation, pain response, and emotional well-being.
That's why I went to bed two hours earlier every night, increasing my total amount of sleep from six to eight hours per night.
After just four weeks of following this simple protocol, I noticed significant benefits. The pain in my back started to fade away, and I'm fairly confident it will disappear soon.
You can check out more about The Holistic Guide to Wellness here.