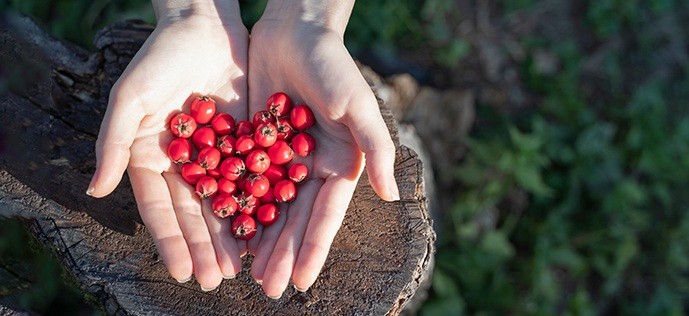 The Backyard Plant that Keeps Your Heart Young
Heart disease is a common health problem and a leading cause of death. Many individuals have been placed on medication to treat high blood pressure, high cholesterol, or other cardiovascular problems. However, there is a lot you can do to keep your heart healthy or reduce the chances or further problems naturally. 
The best-known herb for the heart in herbalism is Hawthorn. In my own experience, it is the first herb, besides garlic, that should be added to one's daily dietary regimen when there is any suspicion of problems of cardiovascular disease. If one has a family member who has heart or vascular problems, or for people eating a diet that includes moderate to high levels of fat, or who are stressed, hawthorn is an excellent protector.
About Hawthorn
Hawthorn is an attractive thorny, shrub-like tree that grows throughout the northern hemisphere.  While it is technically a tree, it's extremely easy to shape and keep the size that can be accommodated in a garden or plant pot.  
The two hawthorn species that have been used for centuries for cardiovascular health are Crataegus Oxycanthus and Crataegus laevigata. The leaves, berries, flowers, and even the young twigs are all used in various preparations.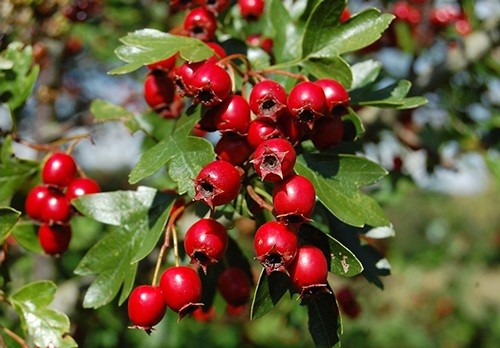 Hawthorn contains high levels of various antioxidant compounds that are especially good for the cardiovascular system. Specifically, hawthorn:
Regulates heart rhythm

Improves blood flow to the heart muscle

Decreases oxidative damage

Strengthens heart tissue

Smooths the lining of blood vessels and dilates them

Boosts oxygen utilization

Thins blood

Normalizes/lowers blood pressure.
Together these make hawthorn an ideal plant to promote heart health and to prevent heart disease. In addition, those who have some form of chronic heart or circulatory problem or have suffered damage to the heart will benefit too.
However, hawthorn can't reverse existing damage to the heart or 'cure' chronic or acute heart conditions although it will strengthen damaged heart tissue.
How to Use Hawthorn
This plant must be used daily and long-term to be beneficial, and there are several ways to do so with each part of the hawthorn plant.
For medicine making, the flowers and leaves can be harvested, along with the berries.  Of course, if you harvest the flowers, there won't be berries, so there is always a choice to make!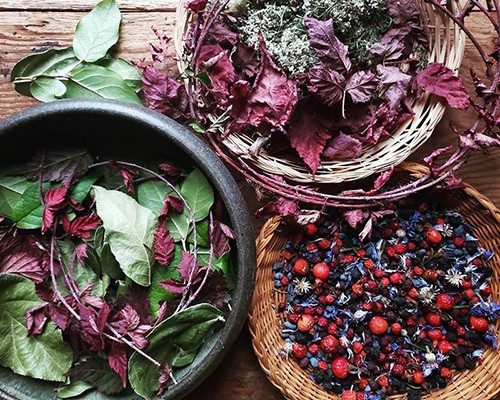 1. Leaf and/or Flower:
Tea:
Place 1 teaspoon of dried leaves and flowers into a cup of boiling water

Allow to steep or draw until it is the strength you like

Don't add milk, but you can add honey, lemon, or another flavor you enjoy

Drink the tea after meals

Dose: up to three cups daily.
Powder:
The powder is available in capsules or as loose powder that can be sprinkled over hot cereals, added to smoothies, or included in other foods

Dose: follow the directions on the packaging or consult a health practitioner. However, a standard daily amount is 200 – 500 milligrams.
Extract:
The quantity here varies significantly, so be guided by your health and wellness practitioner

Doses are 160 – 900 milligrams divided into equal amounts two or three times daily.
Tincture: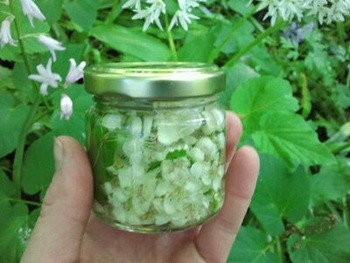 You can make a tincture at home. To do it yourself, simply fill a jar well with carefully picked Hawthorn flower clusters and a few Hawthorn leaves. Then fill the jar again with vodka, brandy, or whatever strong spirit you choose. Flowers exposed to any air will quickly spoil, they need to be completely submerged in the spirit. You can leave it in a cupboard for about 6 weeks, and then strain the flowers.
A standard dose seems to be 20 drops taken orally two or three times a day. However, others suggest a teaspoon in a small amount of water twice a day or 30 – 40 drops three times daily. It's best to consult your healthcare practitioner.
2. Berries:
Powder:
This powder can be sprinkled over foods or into drinks

Dose: follow the directions on the packaging or consult a health practitioner, but a standard amount is 300 – 1000 milligrams three times daily.
Extracts:
Solid extract: ¼ – ½ teaspoon daily only as it is highly concentrated

Liquid extract: ½ – 1 milliliter three times a day.
Syrup:
1 teaspoon two or three times a day.
Tincture:
take 1 – 2 milliliters three times daily mixed with a little water.
To make the tincture at home you need 550g (16oz) Hawthorn Berries and 1 Litre alcohol.
Step 1: Berries should be red and picked from Hawthorn trees in the Autumn. Remove the brittle stems with your fingers and rinse the berries to remove dust and other impurities.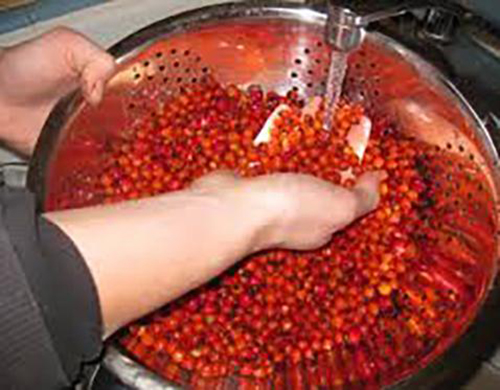 Step 2: Crush the berries as much as you can. If you have a food processor, pulse them in this first before pouring the mix into your container. This will allow more alcohol to penetrate the herb and extract the herb's healing qualities.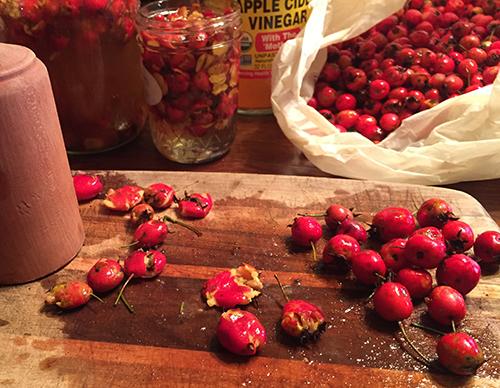 Step 3: Pour the alcohol, seal the container, give it a shake, and then store it in a cool, dark place such as a cupboard.
Step 4: Leave it to infuse for six weeks. Shake the jar every couple of days for maximum effect.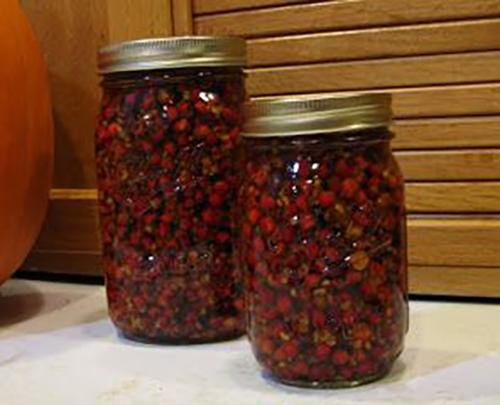 Growing Hawthorn
You can of course buy a hawthorn from a garden center to plant in either your garden or in a pot on a balcony or outdoors. However, the second option is to grow a plant from a cutting.
All you need are young hawthorn stem cuttings, a liquid or powdered rooting hormone, a suitable container that has a drainage hole in the base, clean sand, and potting soil or mixes.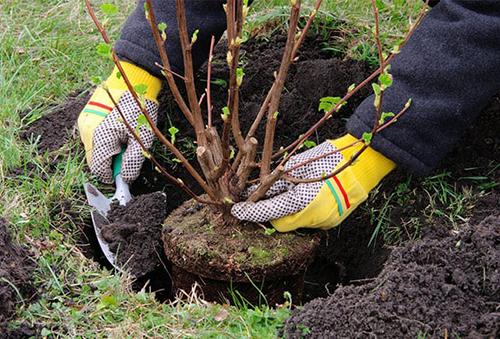 The process is not complicated but takes a long time (2 – 3 years) before you can 'harvest' from the plant. So, if you wish to start using hawthorn soon, I suggest you buy a healthy, mature plant.
Warnings
Overdosing on hawthorn may cause dizziness, nausea, and – far more seriously – low blood pressure or even cardiac arrhythmia. If you experience any side effects, stop using hawthorn, and seek medical advice.
Pregnant and breastfeeding women should not use hawthorn preparations.

Individuals who are taking digoxin, vasodilators, drugs to regulate blood pressure or CNS depressants should not use hawthorn without first consulting their medical practitioner as this herb may magnify the effects of the medication.
 Remember that even with plant-based home remedies and natural supplements there can be some reactions, so, before you start using anything new, check with your healthcare practitioner.
You may also like: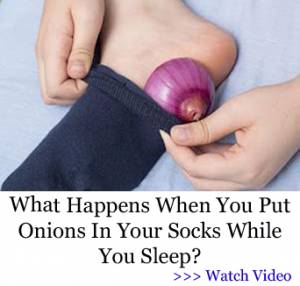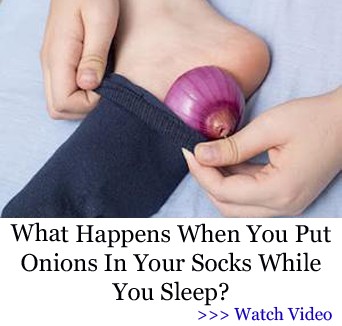 9 Natural Remedies for High Cholesterol and Blood Pressure
Erratic Blood Sugar? Never Eat This Veggie (Video)
How to Use Avocado Seeds to Lower Blood Pressure and Cholesterol