Perfect Greens Super Blend
Perfect Greens Super Blend can transform your life with just one scoop a day. It is formulated to have a holistic approach on the body, supporting many of its functions, not just the immune system, but circulatory, digestive, endocrine, nervous, respiratory, urinary and the lymphatic system as well.





(5.0 from 3 ratings)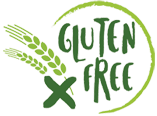 These days it is practically impossible to get from our diet all the nutrients, antioxidants, fibers, vitamins, enzymes, minerals, prebiotics and probiotics our bodies need to function properly and heal themselves.
So, a smart move for anyone who wants to enjoy optimal health is to supplement for what our nutrient impoverished diet lacks.
This unique supplement may also boost your energy and make you feel amazing
Perfect Greens Super Blend is perfect for those who:
• Want to give their body every ingredient it needs to stay healthy and repair properly
• Wish to support a healthy toxin-free life
• Are concerned about rising levels of pollution and a nutrient deficient food supply
• Eat a highly processed or fast-food diet that is lacking in nutrients and antioxidants
• And really for anyone who wants to enjoy a healthy life and take advantage of nature's bounty of healthy nutrients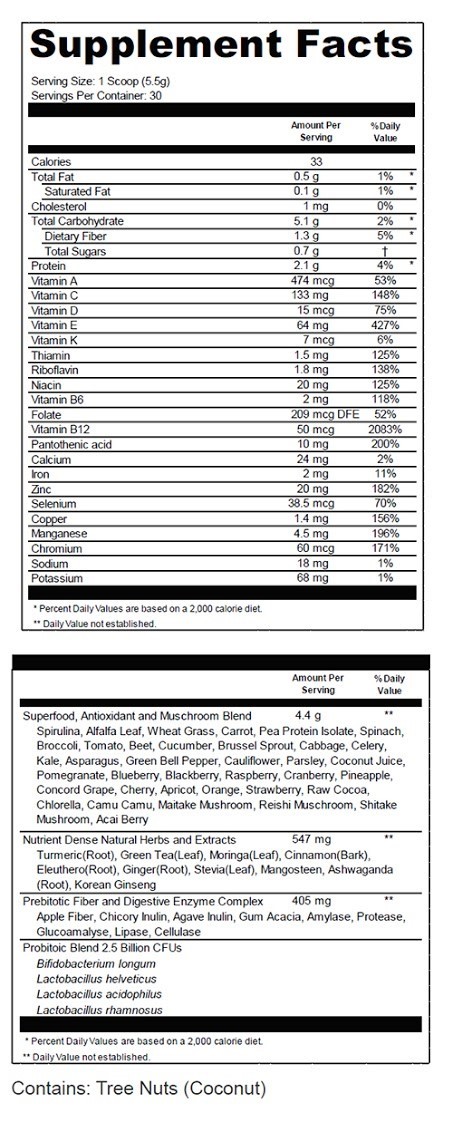 • 1. Superfood, Antioxidant and Mushroom Blend Spirulina, Alfalfa Leaf, Wheat Grass, Carrot, Pea Protein Isolate, Spinach, Broccoli, Tomato, Beet, Cucumber, Brussel Sprout, Cabbage, Celery, Kale, Asparagus, Green Bell Pepper, Cauliflower, Parsley, Coconut Juice, Pomegranate, Blueberry, Blackberry, Raspberry, Cranberry, Pineapple, Concord Grape, Cherry, Apricot, Orange, Strawberry, Raw Cocoa, Chlorella, Camu Camu, Maitake Mushroom, Reishi Muschroom, Shitake Mushroom, Acai Berry
• 2. Nutrient Dense Natural Herbs and Extracts Turmeric(Root), Green Tea(Leaf), Moringa(Leaf), Cinnamon(Bark), Eleuthero(Root), Ginger(Root), Stevia(Leaf), Mangosteen, Ashwaganda (Root), Korean Ginseng
• 3. Prebiotic Fiber and Digestive Enzymes Complex Apple Fiber, Chicory Inulin, Agave Inulin, Gum Acacia, Amylase, Protease, Glucoamalyse, Lipase, Cellulase
• 4. Probiotic Blend Bifidobacterium Iongum, Lactobacillus helveticus, Lactobacillus acidophilus Lactobacillus rhamnosus
Fresh herbs and premium ingredients
Everything inside Pure Herbs Supplements comes from premium sources. You'd be surprised how many bad supplements are out there, as the supplements industry is not regulated by the FDA. But we want to change that and give people the chance to benefit from the power of herbs even if they can't grow or forage for them.
In just the right quantity
These supplements were created after years of making plant remedies with exactly the amount of each rare mineral, vitamin, and plant compound that must go into them for maximum absorption and potency. There is no guesswork involved here like with many other brands that use generic formulations that have never actually been field-tested or proven.
With no gluten, dairy, soy, GMOs, preservatives, dyes, or toxic ingredients
A natural supplement should be just that – NATURAL. With pure herbs, you'll always get pure and clean ingredients that respect and keep a body healthy.
And fast absorption
How well a supplement works is often a matter of how much of it you absorb. Pure Herbs Supplements are all sourced with maximum bioavailability in mind.
For maximum potency and impact
That's why you'll get the most out of these supplements, unlike those you find in health stores or "one size fits all" online retailers. Many people are surprised they need much lower doses and get a lot more out of their money spent when they start using our supplements. But that's what you can expect too.
Plus, you don't risk anything
Each supplement comes with a full 30-day return guarantee. If for any reason you are not satisfied with your purchase, simply send the unused portion back to us, and we will refund your purchase, no questions asked.
The good feeling is addictive!
Ever since I started taking this I can't imagine stopping. The good feeling is addictive!
Great results
This looks like a multi-vitamin but the results have been better than with any vitamin I've ever taken!
More Energy
This gave me more energy than coffee…and that's saying something.