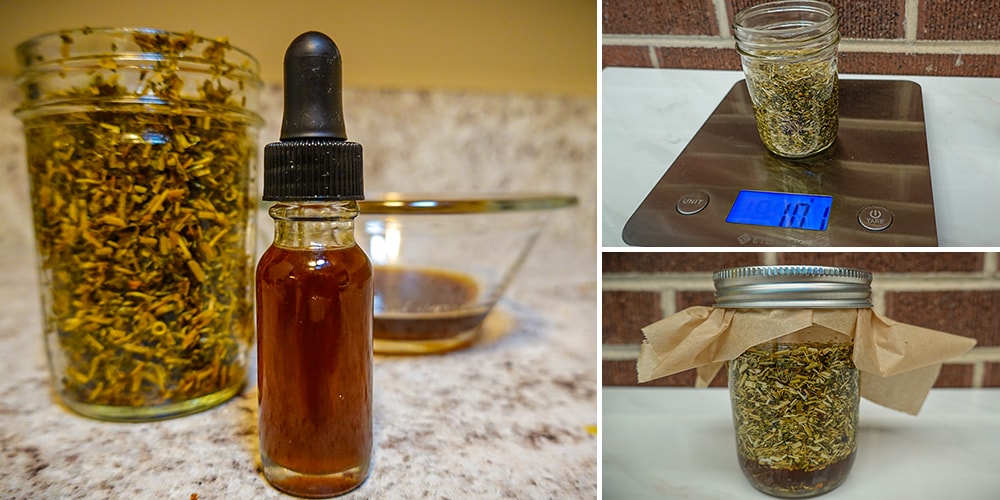 Passionflower Tincture for Anxiety & Stress
Even if you are not diagnosed with a disorder, you probably aren't a stranger to some very stressful days or sleepless nights. As we navigate the challenges that come our way, a natural and accessible solution awaits us in the form of passionflower. Let's unlock the secrets of this beautiful plant and cultivate a calmer, more peaceful state of being. Here, we delve into the details of how this plant can help you by preparing a passionflower tincture recipe for anxiety and stress.
What is Passionflower?

Passionflower, a genus of perennial climbing vine plants, encompasses over 600 species, including numerous horticultural varieties. We can't have an article all about Passiflora, without mentioning the delicious passionfruit. Though not the focus of our tincture, Passiflora edulis offers that sweet and tart mouthful that has become a popular flavor in cooking and baking. The species originates from the tropical regions of Brazil, Paraguay, and Argentina, and is grown along coastal California.
But our real focus here can be found a bit closer to home. Passiflora incarnata is cherished for its herbal properties. Despite its exotic appearance, this complex flower is native to the southeastern United States, with its natural habitat extending as far north as Pennsylvania. The perennial plant sports a woody stem throughout the year. Come spring and summer, the vine comes alive, extending its tendrils up to an impressive 30 feet. Its flowers, a true marvel to behold, exhibit a mesmerizing arrangement of petals.
We'll dive into the medicinal benefits of passionflower here, but we wanted to also highlight the plant's ecological role. Across the southwest, P. incarnata is not only a food source for birds and mammals but also serves as the host plant to several butterfly species.
Passionflower, with its diverse species and captivating characteristics, holds a special place in both the natural world and human traditions.
Historical Use of Passionflower in Herbalism

Like many medicinal herbs, indigenous cultures have long recognized passionflower's ability to calm the mind and soothe the spirit. The Passiflora incarnata species, commonly known as Maypop, was highly revered among Native American tribes such as the Cherokee and Powhatan. Specifically, Native tribes used leaves and flowers to create infusions and teas for alleviating nervousness and promoting restful sleep. All parts of the plant are edible and medicinal. The Cherokee also made a poultice from the root to help draw out the infection from cuts, boils, and ear infections. Lastly, the fruit of the Maypop – known to the Cherokee as Uwaga – is a delicious treat once it ripens.
During the 19th century, passionflower gained prominence in North America as a treatment for nervous disorders and insomnia. Its reputation spread as herbalists and physicians recognized its sedative and anxiolytic properties. Passionflower made its way into various pharmacopeias and herbal compendiums, securing its position as a trusted natural remedy for anxiety-related concerns.
⇒ The Native American Superfood That Saved American Settlers (Video)
Using Passionflower as a Calming Aid

As in so many cases, western science finally caught up to the indigenous wisdom on Passionflower's climbing properties. Today, there are a plethora of studies on using P. incarnata to aid in anxiety management. Around the world, passionflower treats insomnia, anxiety, and depression.
At the heart of passionflower's anxiety-relieving magic lies a remarkable array of bioactive compounds. Flavonoids, including apigenin, chrysin, and vitexin, take center stage as the key players responsible for the plant's calming effects. These compounds work in harmony with other phytochemicals, such as alkaloids and amino acids, to create a holistic profile that targets anxiety from multiple angles.
But how does passionflower actually work to quell our anxiety? The answer seems to lie in its interactions with our brain chemistry. Apigenin, one of the prominent flavonoids found in passionflower, enhances the activity of gamma-aminobutyric acid (GABA) in our brains. GABA is a neurotransmitter that helps regulate neuronal excitability, promoting a sense of relaxation and tranquility. By increasing GABA's effectiveness, passionflower tincture acts as a natural sedative, gently coaxing our minds into a state of calmness and serenity.
Furthermore, passionflower's benefits extend beyond its interaction with GABA. Research suggests that this extraordinary plant also possesses antioxidant and anti-inflammatory properties. By reducing oxidative stress and modulating inflammatory processes in the body, passionflower can alleviate the physical symptoms associated with anxiety, such as muscle tension and restlessness. Its comprehensive approach addresses both the mind and body, making it an appealing choice for those seeking a natural remedy for anxiety.
How to Make a Passionflower Tincture
The process of making your passionflower tincture is quite simple. It's more a task of patience than skill. Compared to teas, alcohol-based tinctures extract different qualities of the herb. For passionflower, we want to get as many of those helpful flavenoids from the plant. Use alcohol that's at least 80 proof to ensure the final product is shelf stable. Here, we use vodka.
The basic method for making a tincture is to fill a jar halfway with herbs, then cover it with alcohol. If you crave a more exact measurement, you can shoot for a 1:5 ratio between the herbs and the alcohol in weight. Here, we weighed out the ingredients, but if you don't have a scale, feel free to use the folk method.
Ingredients
20 g/ 4 tbsp. of dried passionflower
100 ml/ 3.4 fl.oz of Alcohol
8-ounce jar
parchment paper
dropper bottle
Method
Step 1: Measure Ingredients
Weigh out the dried passionflower, then pour it into your jar.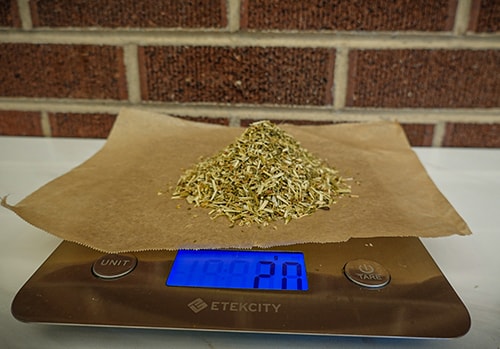 Tare the scale, then decant in the alcohol.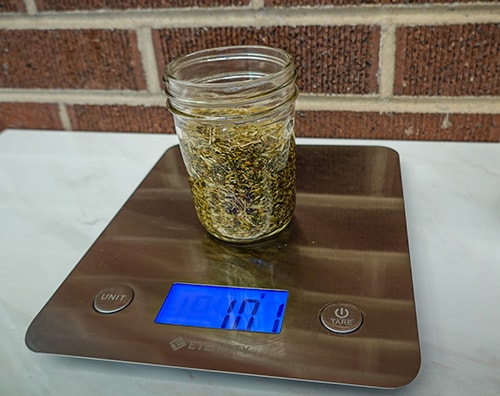 Step 2: Cap and Store
Cap with parchment paper then put the metal jar lid on top. The paper puts a barrier between the alcohol and the metal, to avoid corrosion. Store it in a cool dark place, but don't forget about it! You'll need to come back every day to shake it up. I popped mine in the cupboard with mugs so every morning I'd remember to give it a mix.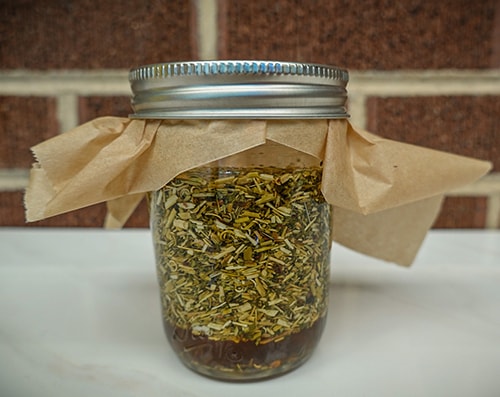 Step 3: Shake and Wait
Shake every day for 4-6 weeks. Shaking helps break down the cell walls to better infuse into the alcohol.
Step 4: Strain and Enjoy
After the proper infusion time, use cheesecloth or a fine mesh sieve to strain the tincture. The dried plant material will have soaked up quite a bit of liquid, so use a spoon or your hands to squeeze it out.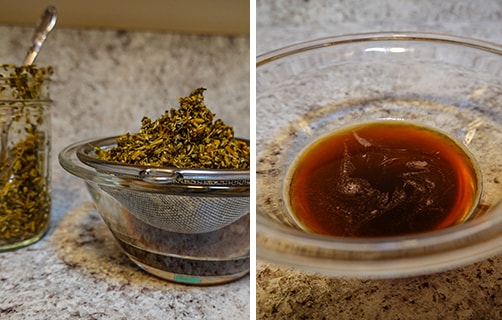 Pour the mixture into a dropper bottle and store in a cabinet.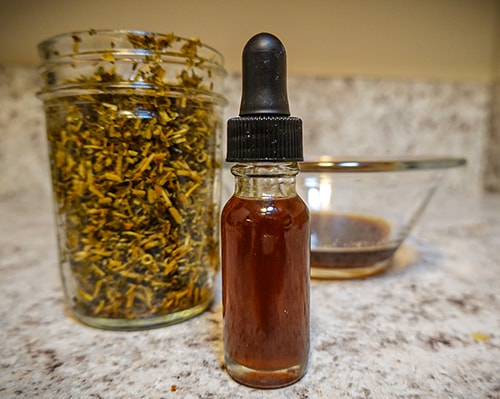 How to Use Your Passionflower Tincture
This tincture will help you slip into sleep while calming your nerves. You can take 15 drops of the tincture as needed, up to three times a day. Depending on your preferences, you can pour the drops under your tongue or mix them with an ounce of water.
Passionflower has few side effects and is generally considered safe to consume up to 800mg of an alcoholic extract each day. However, the herb can induce uterine contractions, so do not use this tincture if you are pregnant.
The Bottom Line
From its ancient roots in indigenous healing practices, passionflower has captivated hearts and minds with its calming properties and stunning beauty. This DIY tincture can bring passionflower's power into our own lives. For when the world seems like it's swirling around you or your mind is racing as you're falling asleep, passionflower can help ground your body and soothe the mind.