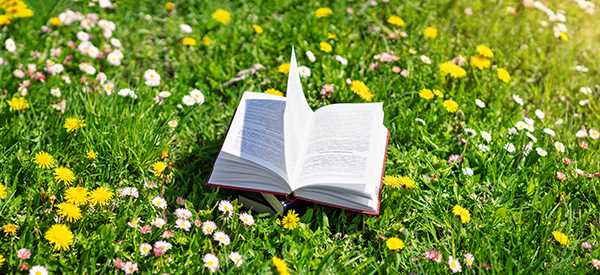 My Favorite Back-To-School Herbs
School season is finally back and everyone definitely has mixed feelings and opinions about it. To many students, it can be another year of meeting old and new friends. Just a bit of fresh air from home, but with a little takeaway from hectic schedules and school tasks.
For many parents, it means getting their kids out of their hair for a while. Of course, there are still busy mornings mostly spent in the kitchen before sending them off.
The beginning of the school year also means the end of the carefree summer. And somewhere in the adjustment to the new routine comes the inevitable and possible exposure to pathogens. So, you know the drill, up your Vitamin C intake and help the immune system battle the unseen enemy.
But, did you know that there are many ways to help your family transition through the school year on the brink of health? You can never go as far as the garden or your pantry to fortify your family from infectious diseases. You may even help your kids boost their brain health, improve their focus, and make school a little less daunting.
I am talking about natural aid from medicinal herbs, and here is a list of some of the best.
Back-To-School Herbs For Chasing Colds And Flu
Elderberry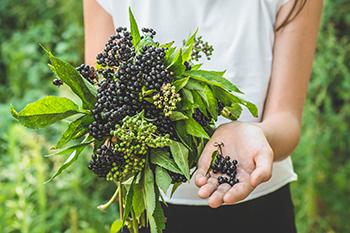 Elder (Sambucus nigra) is one potent herb for treating many diseases and promoting good health. It can reduce the severity of viral diseases and shorten the duration of flu.
I give my kids a dropper full of elderberry tincture every day during the school year. It helps to ward off flu bugs and other viral illnesses in both kids and adults.
Usnea Lichen Throat Spray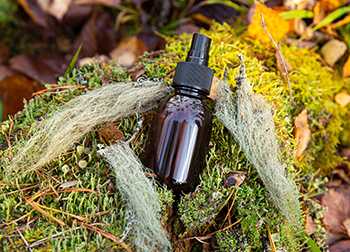 Another outstanding medicinal herb for the back-to-school season: A tincture of Usnea Barbata, or tree moss, is best for respiratory illnesses and sinusitis.
My kids spray it right into their throats each day to fortify them against bronchitis, pneumonia, sinus infections, strep throat, colds, and the flu. It is antibiotic, anti fungal, antimicrobial, and antiviral.
All-Purpose (First-Aid) Salve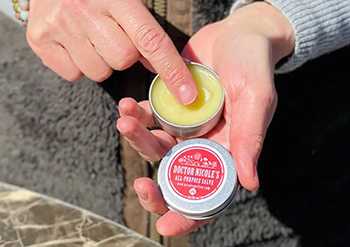 A combination of ingredients like yarrow, olive oil, arnica, calendula, and plantain makes up this organic salve.
It is an excellent product with anti-inflammatory, antiviral, and antifungal properties.
This is my best selling salve — for good reason! I have my kids rub a small amount directly on their hands and inside their noses.
⇒ Find all three in my Travel Pack! I think my "Travel Pack" is also one of the best gifts I've ever given my kids' teachers. This trio of products that I've created myself is my personal favorite for maintaining health, especially during the back-to-school season.
Herbal Remedies For Improving Focus And Lowering Stress
Ashwagandha (Withania somnifera)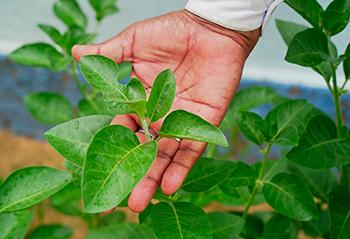 Indian ginseng is an adaptogen that effectively improves the function of the nervous system. It minimizes chronic stress, treats mood disorders, and improves focus and mental alertness.
This is best for people who want to improve their memory and increase their learning power while shielding themselves from internal and external stressors.
Ashwagandha is available as a food supplement or one can prepare a decoction of its root or root powder.
Lemon Balm (Melissa officinalis)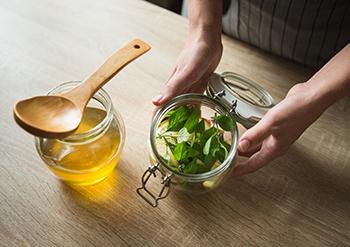 When the going gets tough, stress can mess up with normal body function and affect sleep the most. Lemon balm, as a calming herb, is the best medicine for sleeplessness, stress, and anxiety. Lemon balm tea relieves chronic stress and boosts intellectual performance. You can take lemon balm by boiling its leaves and steeping it into tea or as a tincture. 
Lion's Mane Mushroom (Hericium erinaceus)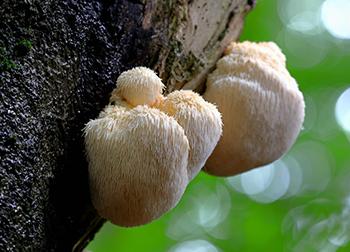 Lion's mane is a mushroom with the best benefit for the brain, nerves, and immune system.
It can support brain health and ultimately improve its function.
Using a lion's mane will promote nerve regeneration to improve focus and concentration. Lion's mane is best taken in its herbal supplement form or tincture along with a meal.
Reishi Mushroom (Ganoderma lucidum)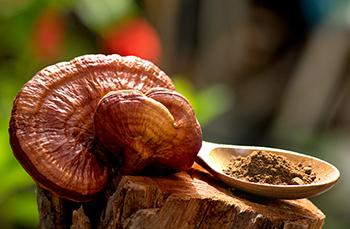 Ganoderma is a popular mushroom that gained popularity for its ability in healing many health issues. But, it is most valuable in its ability to support mental and brain health. It is considered the "Mushroom of Divine Potency" since it can help calm the mind, strengthen willpower, and improve memory and concentration. It can also counter seasonal allergies which are essential protection for students in their everyday school journey. It is taken as an extract or by consuming dried reishi mushroom tea.
⇒ Interested? Try all 4 of these herbs in my easy-to-use Anxiety & Stress Tincture!
Lastly, cordyceps has impressive neuroprotective qualities as well. This unusual looking mushroom helps to improve overall brain function, including memory, and learning. You can learn more about cordyceps in the Apothecary.
With all the transitions in school setup for the past years following the pandemic, the opening of schools is a welcome start. But with all the brewing viral infections, no parent would want to compromise their children's safety. Since life needs to push forward, the best thing to do is to add a layer of protection to children. Hopeful parents can trust the wonders of medicinal herbs to coat their children with a layer of protection. It pays to have happy, healthy, alert, and active children as they move forward for a better future.
Wishing you and your family a healthy, happy, and stress-free start to the school year!
You may also like: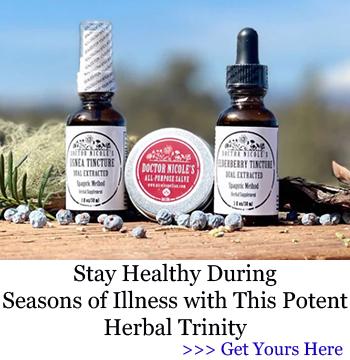 Natural Skin Care Tips for The Summer!
The Mushroom That Got Me Out of The Wheelchair (Video)
Herbal Mosquito Repellent Bracelets
Soothing Elixir For Cold and Flu Season