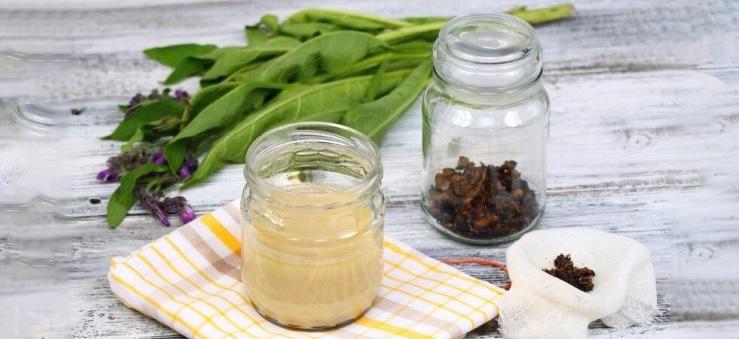 How to Treat Back Pain with Comfrey Root
If you are one of the people suffering from acute back pain, you may find relief from this natural remedy that you can discover on your lawn. It's a type of shrub that can grow up to 5 feet tall. It has bell-shaped purple, blue, and white flowers. The leaves and roots of this plant are greatly used because of their anti-inflammatory and healing properties.
Comfrey's strong roots draw up nutrients from the soil.  The roots of the comfrey plant contain chemical substances called allantoin and rosmarinic acid. Allantoin boosts the growth of new skin cells, while rosmarinic acid helps relieve pain and inflammation. Extracts are still made from the roots and leaves and turned into ointments, creams, or salves.
Knowing of its anti-inflammatory properties, I decided to try a comfrey ointment and a poultice on my sore lower back. I was surprised by just how much it has reduced my back pain.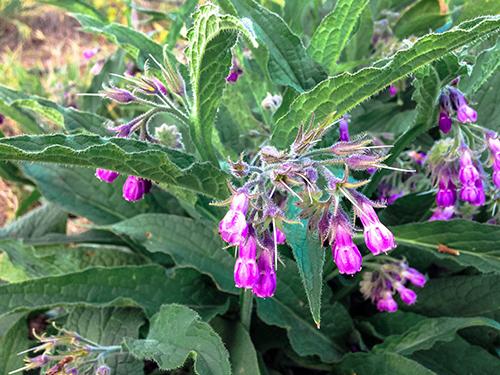 Making your Comfrey Ointment
The first step to create your comfrey ointment is to make your infused oil. This is the essential ingredient in making your comfrey ointment. You will need:
Jar with an airtight lid

Comfrey root enough to fill the jar

Almond oil to cover
Steps for Making the Infused Oil
  1. Harvest a couple of comfrey roots in your garden. Clean and dry the roots.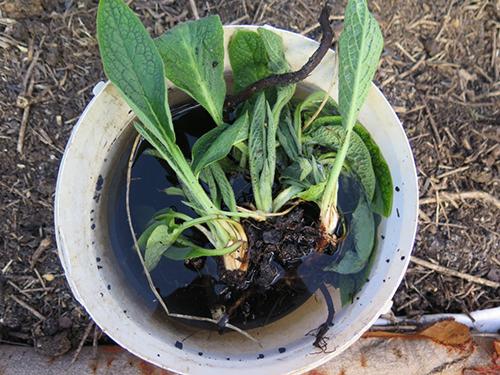 2. Chop the dried roots into fine pieces.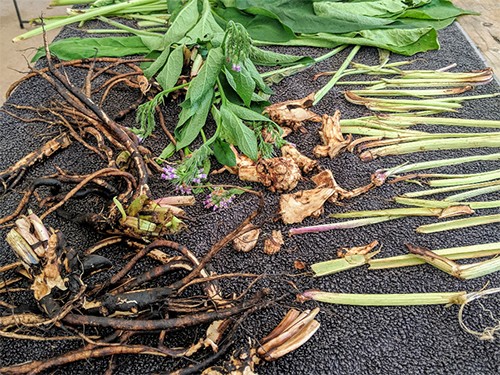 3. Place dried roots into the jar.
  4. Pour almond oil enough to cover all the roots.
  5. Remove the air inside the jar before closing the lid tight. Shake.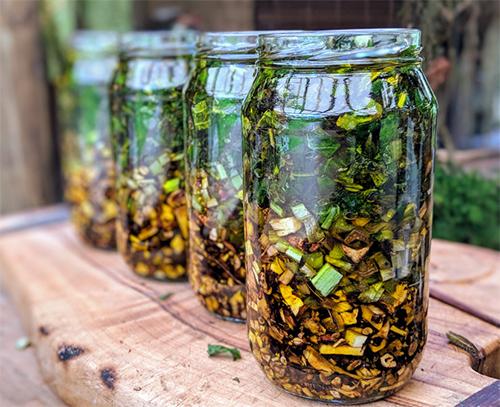 6. Place in a cool dark place for 28 days to 6 weeks to let it soak. The longer it steeps, the better the result will be. Hence, I recommend the 6-week period. While waiting, shake the jar once in a while. This is to ensure that all roots are properly soaked.  After 6 weeks, strain the herbs. You can use an old shirt lined up in a strainer for better results. Place the herbs on the shirt and squeeze it well. The liquid that you'll collect from this is your comfrey oil!
Ingredients for Making the Ointment
200 grams of comfrey infused oil (approx. 1 cup)

25 grams of organic beeswax (approx. 1/3 cup)

½ teaspoon of Vitamin E oil

5 drops of lavender oil

Double boiler

Mason jar
Steps
1. Mix comfrey oil and beeswax in a double boiler.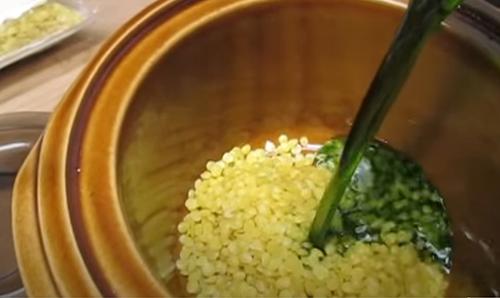 2. Melt gently over very low heat.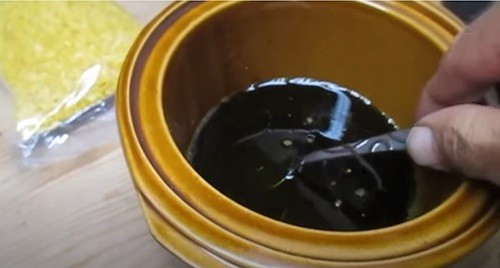 3. Take out from heat and let it cool until warm to touch again.
  4. Add Vitamin E and lavender oils to the mixture.
  5. Pour into a Mason jar and label it with the current date. This can last for 2-5 years if made and stored properly.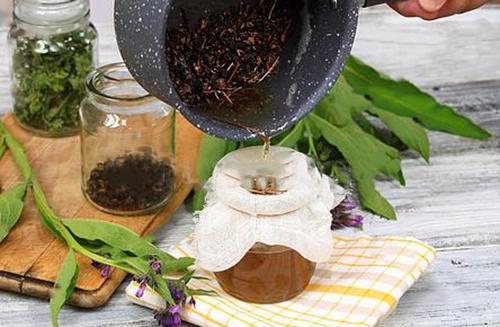 How to apply the Comfrey Ointment
The ointment made from comfrey root will show major reductions in pain when applied to the affected area. You can apply 4 grams of ointment on your back 3 times a day for five days and you will significantly see improvement. However, if you are experiencing side effects such as nausea, cold, eczema, and runny nose, please discontinue using this natural remedy.
Making your Comfrey Poultice
A comfrey poultice is ideal for treating your back pain, as well as bruises. It is also very easy to make and most of the things you need are readily available at home.
Ingredients
Dried comfrey root or 5 to 10 large leaves

1 towel or cloth, folded in half lengthwise (it should be enough to circle on your front and back)

Large pot

Knife or food processor

Mixing bowl, medium size

Cornstarch or flour, optional

Plastic wrap
Steps
1. Boil water in a large pot.
2. Steep the roots to soften it.
3. Remove the roots out of the pot and remove the excess water.
4. Minced the roots finely with your knife. If you have a food processor or blender to make a pulp out of the roots, it'll be better. You may add flour or cornstarch to adjust the consistency you want.
5. Place your comfrey pulp in the towel or cloth for application.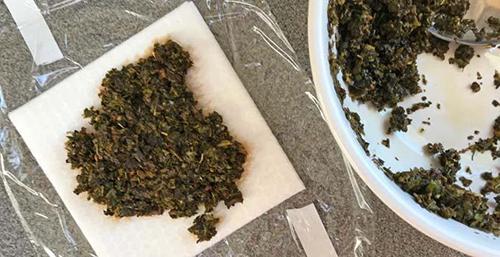 How to Apply the Comfrey Poultice
Apply the towel/cloth with the pulp on your painful back. Circle around your body to ensure that it secures the placement. To make sure that it is not tight, make sure that you can insert one finger underneath the bandage. This will prevent the disruption of blood circulation in the affected area. You can leave the poultice for one hour or overnight.
When removing the poultice, discard the pulp and wash the towel/cloth so that you can use it again. Repeat the steps daily together with the recommended therapy from your doctor until the area is fully healed.
Using Dried Herb as an Alternative Option
Grind dried roots and dried leaves individually. Steep 1 part root powder to 2 parts cold water for at least 1 hour. Then, boil water and place enough leaf powder to produce a paste. Apply the hot paste mixture to the affected area and follow the steps above in applying comfrey poultice.
It is important to note that it is still not advisable to consume any form of comfrey since it is thought to be unsafe due to pyrrolizidine alkaloids. Also, it should not be applied to deep wounds since it might worsen the problem. This plant consists of pyrrolizidine alkaloids that can be toxic to your liver, and it may also be carcinogenic. 
However, with proper use and the right dosage together with your doctor's advice, a comfrey plant is useful and beneficial. 
You may also like: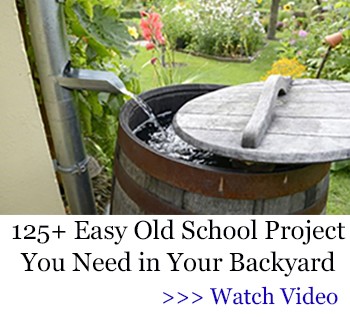 How to Make an Arthritis Tincture
Similar to Morphine: The Best Natural Painkiller that Grows in Your Backyard (Video)
10 Teas That should Always be In Your Cupboard
How to Make Cabbage Bandages to Treat Inflammation and Joint Pain