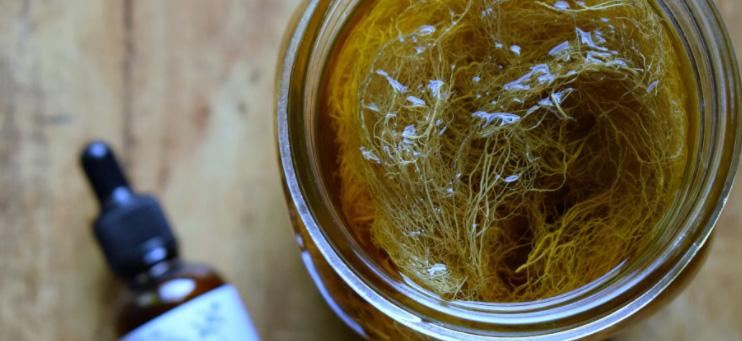 How to Make Usnea Tincture for Respiratory Support
Usnea is a form of lichen that grows on trees. Usnea has a specific affinity for the lungs. It assists in respiratory infections and illness, acting as a herbal antibiotic.
This 'plant' is not in fact a single plant but a combination of fungus and algae that grow in a symbiotic relationship. Two common names for Usnea are "Old Man's Beard" and "The Lungs of The Forest".
There are several varieties of Usnea. This lichen is common throughout the Northern Hemisphere and particularly enjoys growing on fir, pine, oak, and fruit trees. The species most frequently used in medicinal preparations is Usnea barbata.
Usnea preparations make use of the whole plant and can be used for a variety of health concerns including sore throats, athlete's foot, acne, pain, fever, and wound healing. However, today's discussion focuses on its use for respiratory problems and support and how to make an effective tincture.
How to Identify and Harvest Usnea
Usnea should not be confused with Oak Moss or other tree lichens.  All eight usnea species are characterized by long, stretchy grey-green strands that hang down from the tree branch or trunk.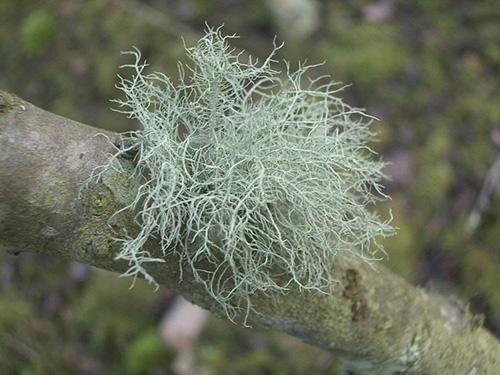 Underneath the outer green or grey-green coating is a whiteish central filament. If the central core is not whitish it is probably not usnea. This lichen can produce strands that are inches or even feet long.
If you are going to forage for and harvest usnea rather than buying it from a health shop, it's important to do so from unpolluted or low pollution areas. This is because this lichen is particularly susceptible to absorbing environmental pollutants including heavy metals.
What makes Usnea so effective for respiratory problems?
Studies have found that this lichen's main constituent, usnic acid, has antibiotic properties. It has been found to be effective against over a dozen gram-positive bacteria including streptococcus, staphylococcus, pneumococcus, and mycobacteria.
Usnic acid appears to work by disrupting the metabolic function of the bacteria and starving them of energy. While bacterial cells are damaged by usnic acid, human cells aren't if remedies are correctly made and suggested doses are adhered to. This means that this remedy is not considered unsafe when taken internally.
How to make Usnea Tincture
There's more than one way to make a tincture using Usnea. This lichen is ideal for this type of preparation because the outer layer is alcohol soluble.
Method 1: Cool method
Ingredients:
Dried or Fresh Usnea

High proof alcohol, preferably 190. Lower proof alcohol does work, but the mixture takes longer to tincture.
This is a simple method that does not involve heating or cooking:
1. Place the Usnea into a clean jar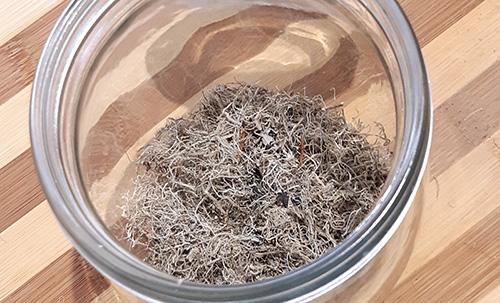 2. Pour alcohol over the lichen until it is covered by 1 inch / 2 ½ centimeters of alcohol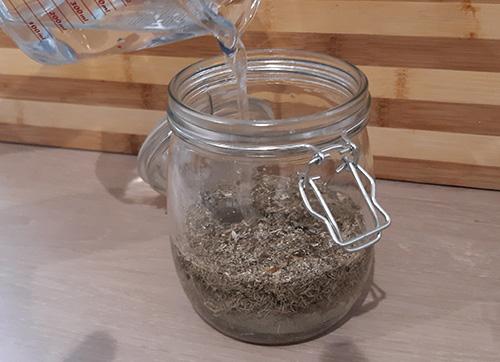 3. Place a securely fitting lid on the jar and label the mixture clearly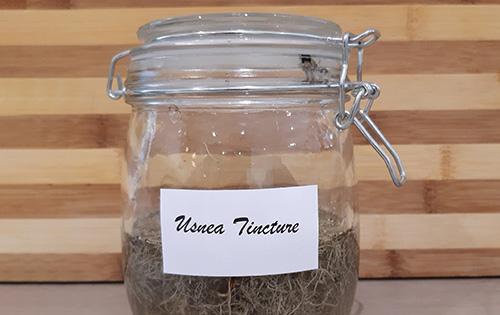 4. Leave to infuse in a warm, dark place for 6 weeks if you used 95% proof and for 4 – 6 months if you used lower proof including commercial spirits such as Vodka or Gin
5. Strain the mixture to remove the lichen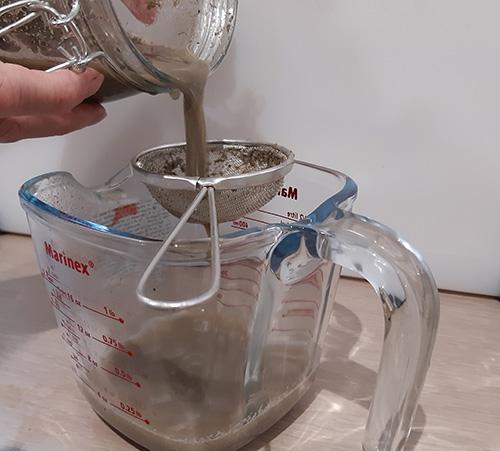 6. Pour the tincture into a dropper bottle.
This is a traditional way to make tinctures and one that many individuals recommend.
Method 2: Hot / double extraction method
Ingredients:
1 ounce / 28 grams of dried or fresh Usnea

4 ounces / 118 milliliters of distilled or filtered water

5 ounces / 74 milliliters of grain or pure, organic cane alcohol
Method:
1. Chop the lichen and place it in a stainless-steel pot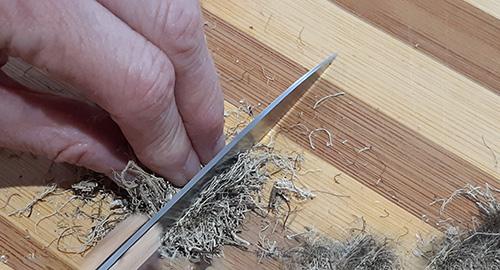 2.  Add the water and bring it to the boil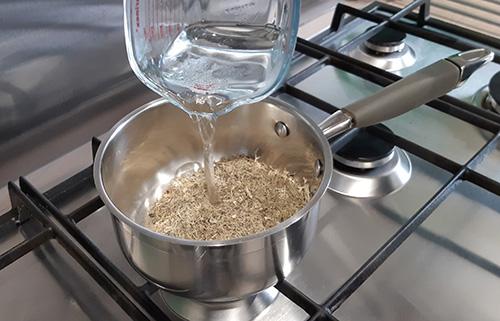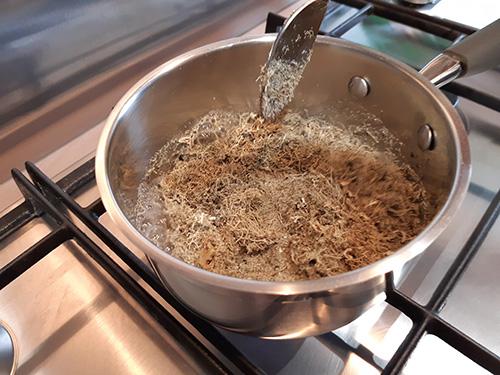 3. Turn the heat down, cover the pot with a lid, and simmer for 15 to 20 minutes. You should find that the water volume has reduced to about 2.5 ounces or 74 milliliters.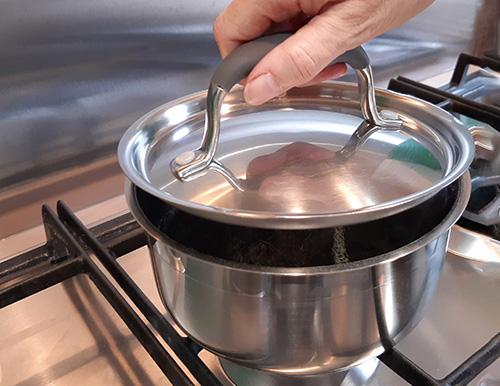 4. Remove the pot from the heat, take off the cover, and leave the mixture to cool for several minutes.
5. Pour the mixture into a jar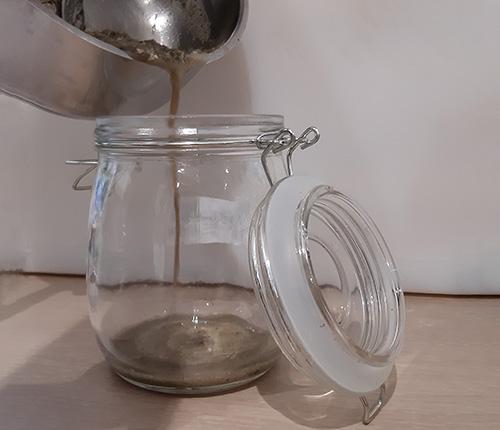 6. Add the alcohol and mix well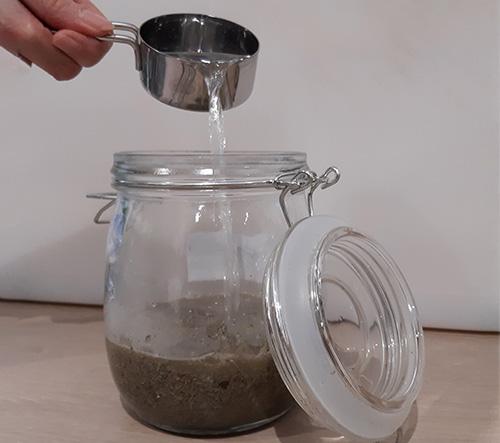 7. Cover the jar, label it clearly, place it in a dark, warm place for 2 weeks, and shake the jar daily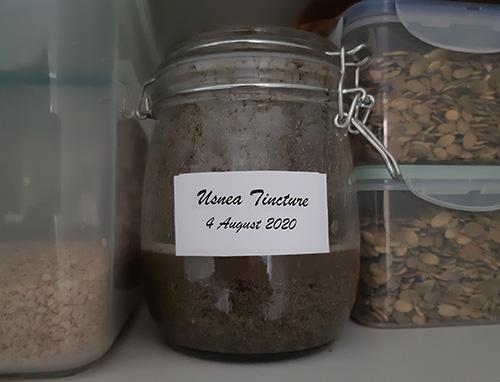 8. Strain the liquid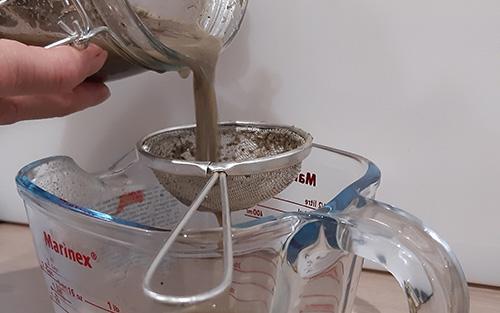 9. Pour liquid into a dropper bottle, place the cap on, and label the bottle.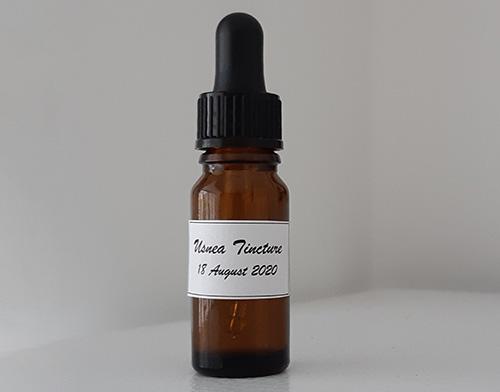 You can select whichever method you find easiest depending on how quickly you want to be able to use the tincture.
How Much Should I take?
It is recommended that you do not ingest an alcoholic tincture without diluting it as it can irritate the gastric system. The specific dose may vary depending on the user's age, other health conditions, and what the tincture is being used for. However, general advice:
1 teaspoon / 2 – 5 ml up to 3 times a day

Mix the tincture into warm water

Drink the mixture 30 minutes before meals

Don't ingest the tincture for more than 10 consecutive days.
If you have concerns, consult your health and wellness practitioner. If you experience any ill effects, stop using the tincture immediately, and seek medical advice.
Usnea tincture does not need to be refrigerated and, if stored in a cool place out of direct light, it has an almost indefinite shelf life. The alcohol acts as a preservative.
Warnings and Cautions
As with any preparation, even herbal or plant-based ones, there may be some individuals who are adversely affected or should not use them. Specific warnings with Usnea are that it should not be taken by:
Women who are pregnant or breastfeeding

Individuals with liver disease.
It is always advisable to check with your health and wellbeing practitioner before you start using any preparation to ensure that it is safe for you, especially if you have any medical conditions or are taking prescribed or other medications.
You may also like: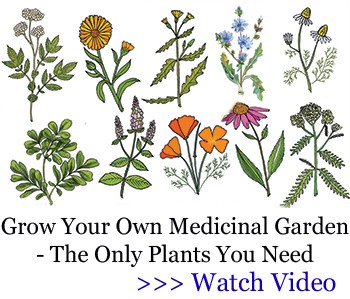 Just Like Doxycycline: The Antibiotic That Grows in Your Backyard
Airway Obstruction: What Can I Do if I Am Alone? (Video)
Best Herbs for Lungs and Respiratory Support