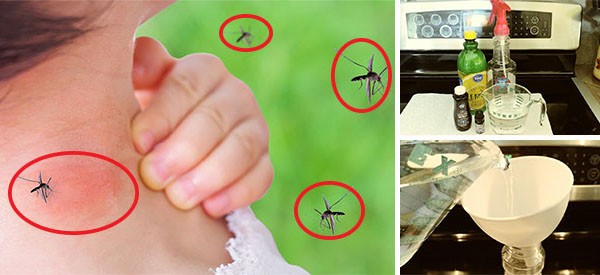 How to Make Mosquito Repellent at Home
Finding a way to spend time outdoors has probably never been more appealing and important, than when we find ourselves in the midst of a pandemic. Spring and summer have always been a popular time for many people, and it brings most of us outdoors for multiple reasons: swimming, cooking, campfires, camping, or even just to get some fresh air.
However, we share the outdoor space with others, including pesky mosquitoes. I'm not sure how it is by you this year, but I think the mosquitoes in our area are on steroids! Not only does it seem to be twice as many each year lately, but they are BIG!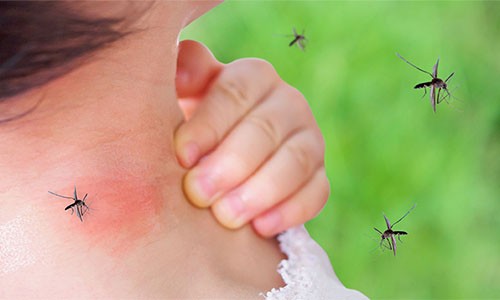 Rather than staying cooped up inside, I decided to look into my options. One option is to have a company come spray our property. Sure, it might be "guaranteed", but it's also expensive. And, not to mention, having a chemically infused fog sprayed over the property doesn't sound all that comforting to me.
Another option would be store bought bug repellents, that we can spray in the yard or on ourselves. But, I'm not particularly fond of feeling and smelling like a personal sticky chemical bomb.
So, I looked further into my options and realized there are several homemade and all-natural mosquito repellents that I can make. And, they smell GOOD!
I happened to like the lavender one, so that is what I will focus on most with the photos and instructions. But, because we all have our likes and possible allergies, I will share several various recipes for an easy, inexpensive, homemade, and natural mosquito repellent.
Lavender, Lemon, and Vanilla
What you will need:
● A spray bottle (at least 16 oz in size)
● 15-20 drops of lavender oil
● 3-4 tablespoons vanilla extract
● ¼ cup lemon juice
● 2 Cups Water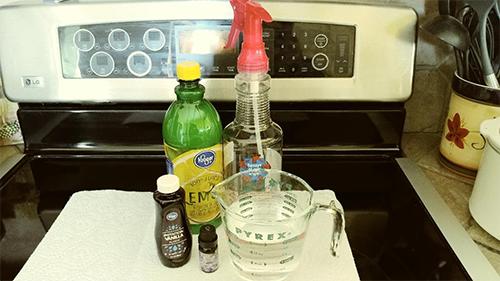 Pour the lemon juice into the bottle.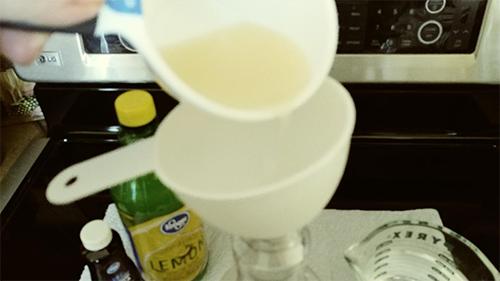 Shake 15-20 drops of lavender into the bottle.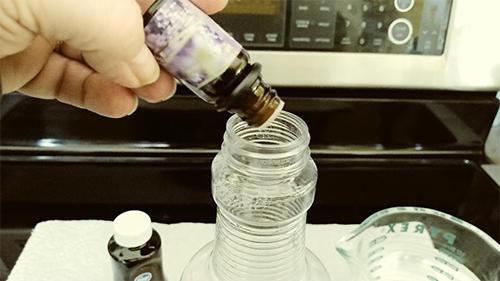 Add 3-4 tablespoons of vanilla to the mix.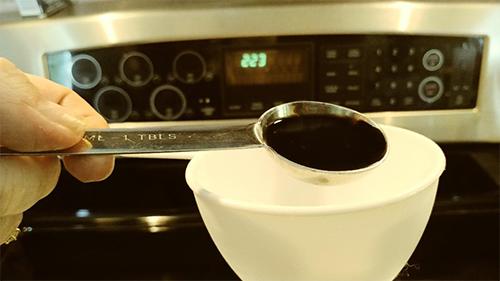 Add 2 cups of water to the mix.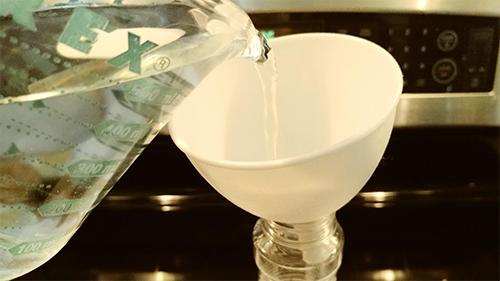 Shake well, and spray like a topical mist when needed. Focus on exposed skin, but also thin clothing. You can reapply 2-3 times during your exposure.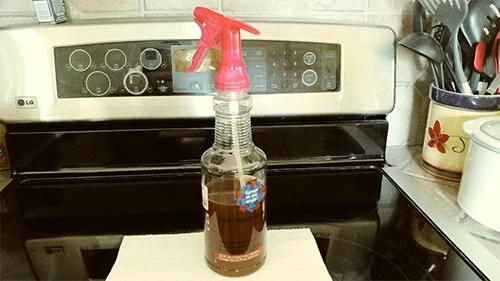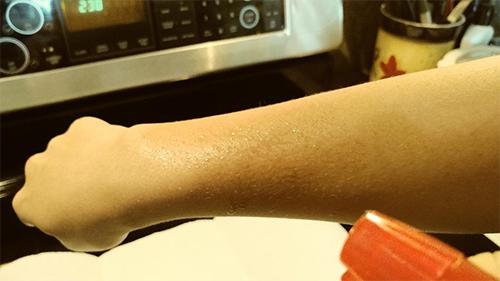 Why Does This Work?
Even though lavender is known to be calming to us humans, mosquitoes don't care for it at all. Lavender contains certain compounds that repel them, such as:
● Linalool
● Eucalyptol
● Camphor
● Limonene.
In addition, both the vanilla and the lemon juice have natural repelling traits.
But maybe you don't like lavender or lemon. That's OK. Here are a few more recipes to consider:
Peppermint and Coconut Oil
● Peppermint oil – 12-15 drops
● Coconut oil – 1.5 ounce
Mix the oils, and apply directly to your skin. The peppermint has the same repellent features that lavender has, and the oil emulsifies and slows down the evaporation of the peppermint.
Cinnamon Oil Spray
● 10 drops of cinnamon oil
● 2 oz of water
Mix and put into a spray bottle, then spray on exposed skin. Cinnamon bark is known by many as a mosquito repellent due to the components found in it, such as cinnamyl acetate, cinnamaldehyde, and anethole.
Rubbing Alcohol Mix
● 1 tablespoon rubbing alcohol
● 10-15 drops of essential oil (choose one of the few listed here for added repellent benefits)
● 1.5 oz water
Mix all 3 ingredients, and pour into a spray bottle. Spray the mixture over exposed skin. The rubbing alcohol intensifies the essential oil, making it more potent. Also, rubbing alcohol is a healing agent, including for bites. So, if a stubborn mosquito gets through, the rubbing alcohol that is already on your skin will help to diminish the bite.
Tea Tree and Coconut Oils
● 10-15 drops of tea tree oil
● 1.5 oz of coconut oil
Mix the oils and apply to exposed skin. Tea tree oils have great medicinal tendencies, hosting both anti-inflammatory and antiseptic properties. If the strong aroma doesn't repel all the mosquitoes, the tea tree will work to heal a bite more quickly. Tea tree oil also has a strong odor to it, which helps to repel most insects.
Garlic Spray
● 5 or 6 garlic cloves
● 1 Tablespoon mineral oil
● 1 teaspoon lime juice
● 2 cups water
Mince the cloves, add the mineral oil, then soak overnight. Strain the minced garlic out of the oil. Add the water and lime juice. This recipe is different from the rest in that it isn't sprayed on you, but rather on plants and items around you. However, you can spray it on exposed skin if you choose to. But it might keep more than mosquitoes away if you do. In addition to the strong aroma acting as a convincing repellent, garlic also contains allicin, a compound that has shown repelling tendencies.
Cloves and Lemon
● 10-12 cloves
● 1 large lemon
Cut the lemon in half, then insert about 5 or 6 cloves into each half. Place each half in a room or wherever you will be at. You could also mix clove oil and lemon juice and use it as a spray for exposed skin. The strong aroma of cloves acts as a repellent, but it also has eugenol, a strong compound that helps to repel.
Citronella Oil and Alcohol
● .50 oz rubbing alcohol
● 12 drops of citronella oil
● 3 oz of water
Mix the alcohol with the water in a spray bottle, then add the citronella oil. Spray on exposed skin to help repel mosquitoes. Citronella oil stems from lemongrass, and has long been used for repelling mosquitoes. They say it's fairly close to the strength of DEET.
Any of the homemade repellents mentioned in this article can be used alone, or in combination with any of the others. However, if you are unfamiliar with any of the products, start with one and sparingly, to make sure it does not irritate your skin.
You may also like:
How To Properly Dry Plants for Medicine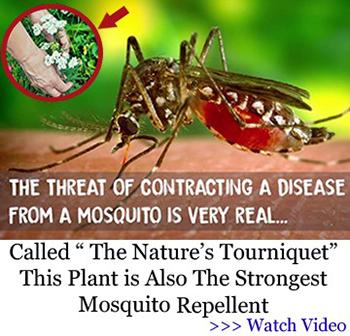 A Natural DIY Antibiotic Salve Recipe to Keep Around (Video)
25 Reasons You Should Go and Pick Dandelions Right Now!
How to Grow, Harvest and Use Agrimony for Digestive Problems
How To Make a Powerful Calendula Extract to Keep in Your Medicine Cabinet (with pictures)