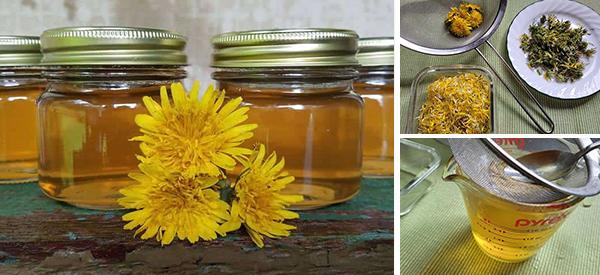 How to Make Dandelion Jelly
Those beautiful yellow dots that are popping up all over the lawn and roadsides are also incredibly edible, delicious, and surprisingly, exceedingly healthful. A wonderful spring and summer task is to make Dandelion Jelly. This jelly has lovely honey-flavored floral notes. Moreover, it is a great addition to blood-sugar-conscious eating habits.
Dandelion has gained a lot of notoriety lately for its health benefits. As a long-time gardener who also spent many early years working at golf courses, dandelions have not been top of my salad-making list. Never mind using it for dessert! Or breakfast!
To be honest, we were young rogues trying to save the dandelions from the herbicide sprayer. To this day, we let them run riot all over our yard because of it. Who would have thought that one day they would be selling dandelion seeds! Hallelujah! Not only is the dandelion saved, but it is also now revered!
With good reason! Dandelions are packed full of nutrition. They also have a ton of bioactive compounds that are currently being studied for their many anti-diabetic attributes. Additionally, they show promise in many other diabetic-related complications, such as obesity, hypertension, cardiovascular issues, coronary artery disease, and dyslipidemia. Hence, their increasing popularity.
Harvesting Dandelions
If you are planning to go out to harvest some dandelion flowers it is a great idea to be fussy about where you pick them. Look for areas that are contamination-free. A lawn or meadow that has never been treated for weeds is a great start. Dandelions growing near heavily treated areas and roadsides may not be best. Also, areas frequented by pets might be avoided too!
Spread out the area you harvest from. In this way, you may not deplete an area for other flower-seeking fellows such as bees and butterflies, who love them too. You are doing a good thing though. To ease your guilt, just know, dandelions love making flowers! For every flower you pick, the plant will send up two or three more. You will, in fact, be creating more food for bees, rather than taking it away.
Ingredients
2 cups dandelion flower tea: Made from 1 cup of dandelion flowers and 2 cups high-quality water.
Pectin of your choosing: You may want to choose pectin that has "no sugar required" listed on its packaging to make a low-sugar flower jelly.
1 to 4 cups sugar: This may depend on your desired sweetness and choice of pectin. One of the major benefits of using dandelion is its blood sugar controlling ability. Accordingly, this is a great opportunity to make a diabetic-friendly treat!
1 tablespoon lemon juice: Optional.
Process:
Step 1: Gather 1 cup of dandelion flowers. This is best early in the day before the bees are at them. Try to gather from a wide area. In this way, you won't deplete an entire nectar source for crawling insects, or bees and butterflies.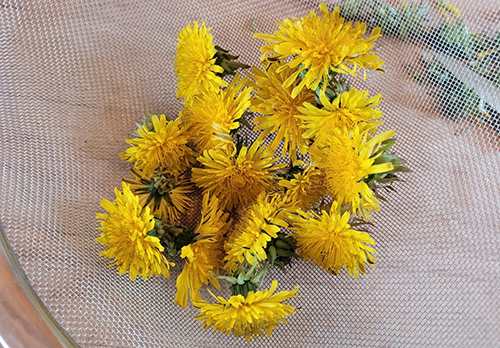 Step 2: If desired, rinse them gently. Allow drying.
Step 3: Trim off the green bracts. Some folks like to use scissors. I prefer a sharp knife. Hold the open flower petals as if to close the flower. Cut at the base of the green bracts. The fluffy flower petals will kind of erupt. On a perfect cut, the remain green bracts act as a wrapper that will just unfurl. It is then easily removed from the petals.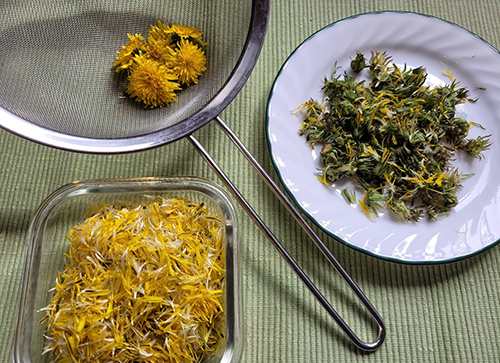 Step 4: Place flowers in a pot and cover with 2 cups of high-quality water.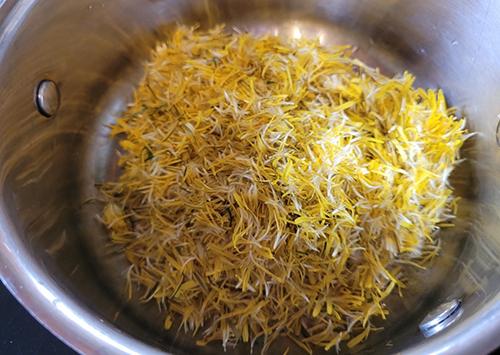 Step 5: Bring to a boil. Allow the flowers to simmer for 30 to 40 minutes.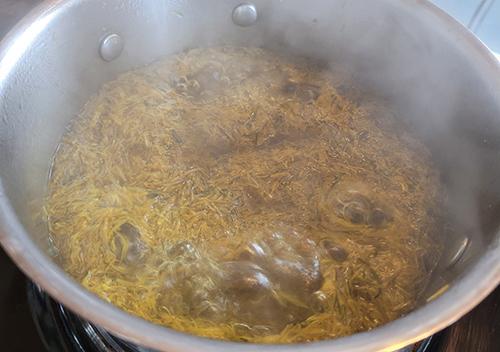 Step 6: Let the dandelion flower water cool for a few minutes.
Step 7: Strain the dandelion extraction from the water using cheesecloth or a fine-mesh sieve. For this light, floral water, even a coffee filter will do the trick.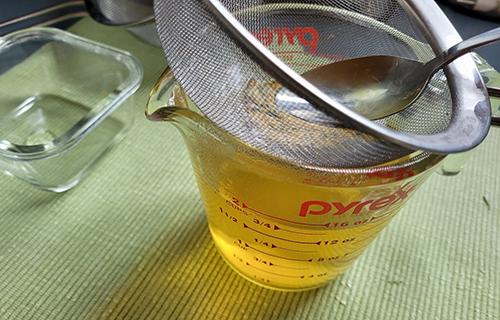 Step 8: Bring dandelion extraction to a boil.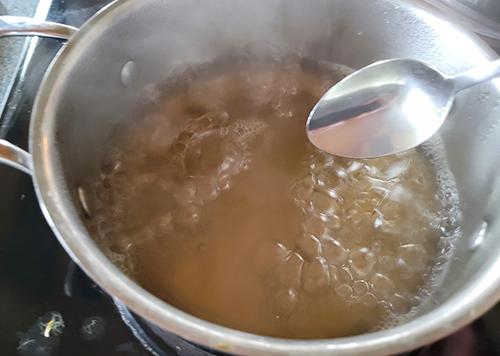 Step 9: Follow directions on your choice of pectin. Some may be added directly. While others may be added after the sugar has been dissolved.
Step 10: Add sugar and stir continually at a rolling boil until the sugar has fully dissolved. Add pectin if it has not already been added.
Step 11: Once pectin directions have been followed exactly, pour the hot liquid jelly into heat-safe glass containers.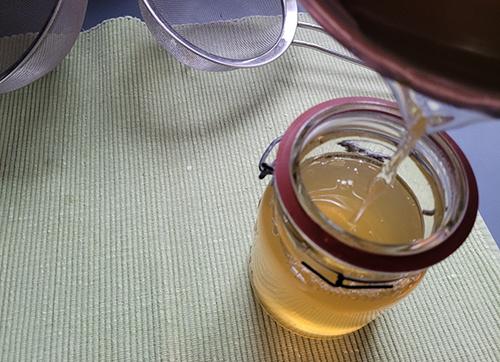 For long-term storage, a process in a hot-water bath canner, following appropriate canning guidelines.
For jelly that will be consumed within the next 4 weeks, allow to cool, and set. It may take 12 to 48 hours for the jelly to set completely.
At my house, this jelly will be consumed probably over this weekend, so I won't be doing the extra step of water bath canning for long-term storage.
How to Use Dandelion Jelly
Just give it a taste. This recipe might be more treat than food as medicine. On the other hand, just because it is delicious and enjoyable, doesn't mean it isn't good for us, right?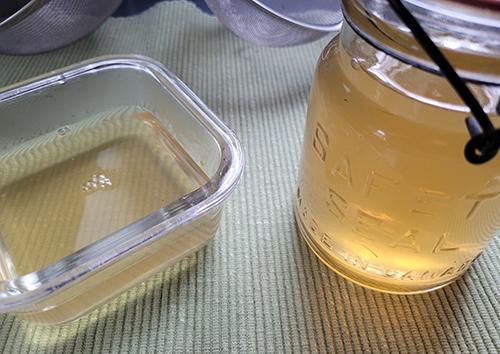 Dandelion Jelly may be the perfect accompaniment to a lovely cheese and fruit tray. Perhaps it is the next best chutney alternative for a spicy curry dish. With seared dandelion greens, of course. On the other hand, try it as a spread on a mushroom burger garnished with fresh young dandelion leaves. Or, hey, put it on toast. Why not just enjoy.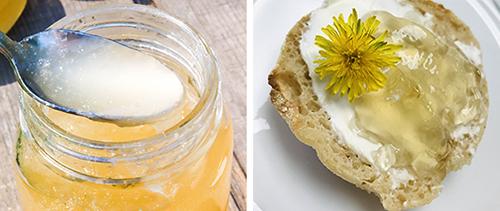 Recommended Dosage of Dandelions
This is an excerpt from The Physiological Effects of Dandelion (Taraxacum Officinale) in Type 2 Diabetes, from the Journal of the Society for Biomedical Diabetes Research.
It is noted that the doses are rudimentary and are meant to help empower populations to source alternative, accessible, and affordable treatments. Importantly, they also note that dandelion is considered "a key anti-diabetic plant because of its anti-hyperglycemic, anti-oxidative, and anti-inflammatory properties".
Renowned physicians, the European Commission, and the British Herbal Pharmacopoeia recommended the following range of doses for dandelion:
Fresh leaves 4-10 g daily
Dried leaves 4-10 g daily
2-5 ml of leaf tincture, three times a day
Fresh leaf juice, 1 teaspoon twice daily,
Fluid extract 1-2 teaspoon daily
Fresh roots 2-8 g daily
Dried powder extract 250-1000 mg four times a day
Potential Caution
As with any wild food, be aware of any potential allergies associated with flowers and pollen. Dandelion flowers, roots, and leaves are edible and have been used as food and medicine for at least hundreds of years. Do take care to observe any adverse reactions. Additionally, check with your healthcare provider if you are taking any medications that might have contraindication with consuming dandelion.
Make the most of these early blooming flowers. Dandelion jelly is an excellent way to kick off the spring season with this easy and widely available floral, healthful plant. This jelly is wonderful to include in our diet as a treat. Moreover, dandelions are a wonderful addition to healthful, blood sugar-conscious eating habits.
You may also like: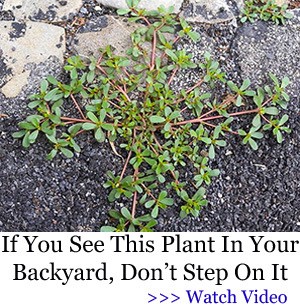 Dandelion Syrup For Cholesterol and Blood Sugar Control
10 Plants That You Should Never Plant Together (Video)
Dandelion Root Infused Honey for Immunity
25 Reasons You Should Go and Pick Dandelion Right Now!