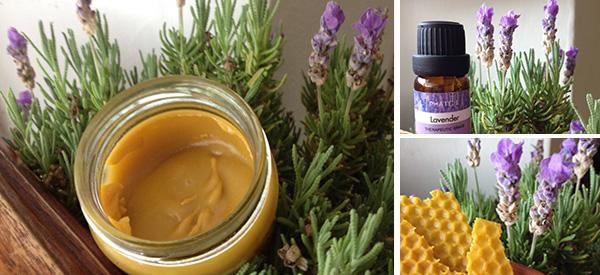 How To Make a Whipped Lavender Cream
Adding a few drops of lavender essential oil to your favorite cream or lotion is an easy way to include some lavender into your daily routine, but making your own whipped lavender hand cream requires only a few easily sourced ingredients and equipment from the kitchen.
Medicinal Properties of Lavender
Unfortunately, all herbal products are considered dietary supplements to the US Food and Drugs Administration, so are not approved for medicinal use, but the European Medicines Agency, World Health Organization, and European Scientific Cooperative on Phytotherapy approve the use of lavender to relieve stress and anxiety and many people use it to help treat related issues like depression and insomnia. The actual mechanisms for its relaxing effects are numerous but include regulating serotonin levels with practically no side effects.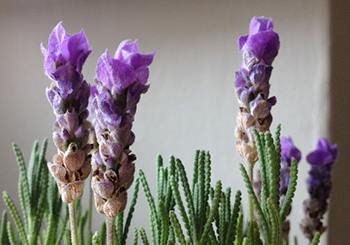 Linalyl acetate and linalool are the major components of lavender that regulate serotonin and its related receptors. They both have their maximum absorption approximately 20 minutes after topical application, after which time they are easily detected in the bloodstream, brain, and lungs. These components do not accumulate in the body, so will be flushed and excreted through the body within about 90 minutes. This has both pros and cons; on one hand, lavender is safe when used frequently over a long period at low doses, but on the other hand, its medicinal effects fade after 90 minutes. In short, this means many lavender-based topical therapies can be and should be, applied at regular intervals on an as-needed basis.
Lavender Extraction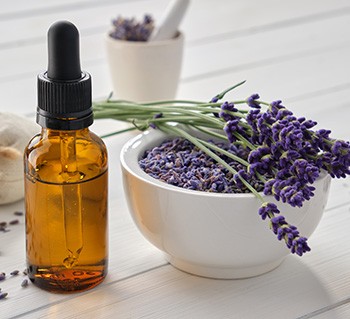 If you want to extract linalyl acetate and linalool from your own lavender flowers, then the most effective DIY method is to make a tincture using a high-proof (40%) alcohol. The alcohol acts as an organic solvent and is so effective, that most of the linalyl acetate and linalool are extracted within 5 hours. Adding 2 – 3 drops of this tincture to some water-based lotion is a great way to apply this tincture topically, but in the recipe below, I will be using lavender essential oil which means making an oil-based cream instead, which avoids the complications of preservatives and emulsifiers that is required in a stable water-based lotion.
Ingredients:
The basic make-up for this cream involves 1) a carrier oil, 2) a finely ground flour, 3) beeswax and 4) essential oil. My go-to carrier oil is our locally produced olive oil, but most plant-based oils will work just as well.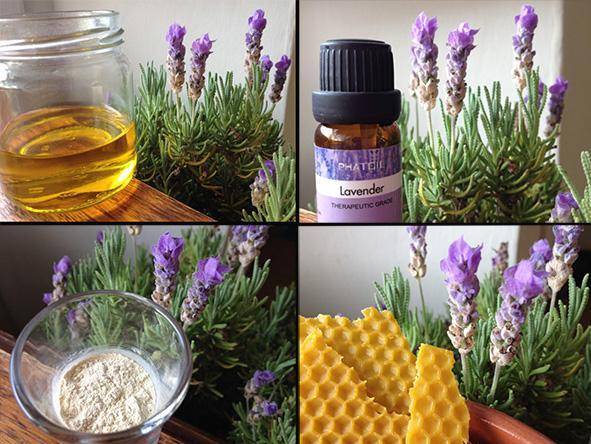 I'm using some ashwagandha flour because its medicinal properties complement those of the lavender (it too has calming and relaxing qualities), but there are numerous other finely ground products that you can use, including arrowroot, colloidal oatmeal, or calendula flour.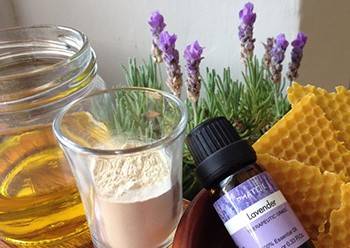 The following quantities make approximately 3 ounces (90 ml) of whipped lavender cream:
Approximately 35 – 40 drops of lavender essential oil
1 cup of olive oil
5 ounces (15 g) of beeswax
4 teaspoons of finely ground ashwagandha flour
Method
Place the olive oil and beeswax in a glass jar that is wide enough to fit a single whisk from a handheld beater. Set the jar in a pot of warm water (150 °F) and stir until the beeswax has melted into the olive oil.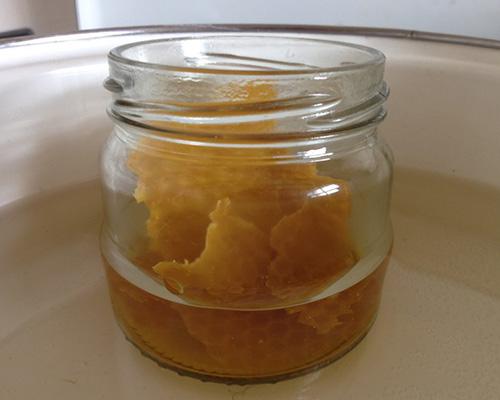 Remove the jar from the warm water and allow it to slowly cool to about body temperature. The first photo below is what it looks like straight out of the hot water bath, whereas the second one is what it looks like once it is cool enough – not completely solidified, but not completely liquified.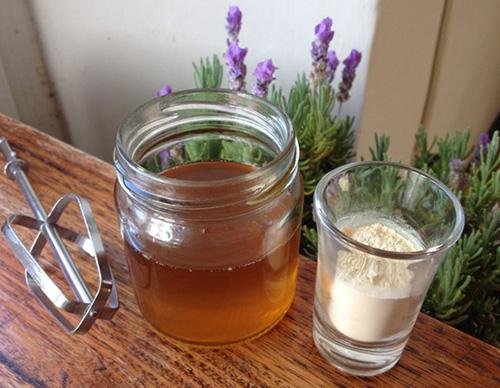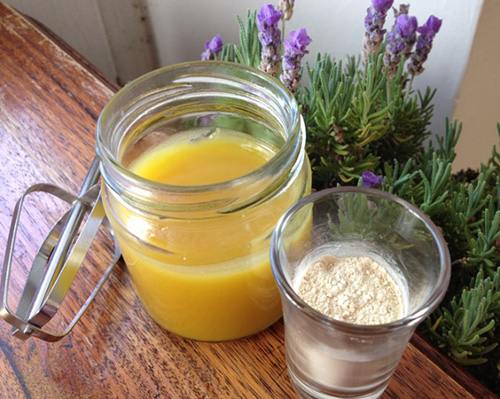 Then add the ashwagandha flour and the lavender essential oil and whisk thoroughly until all of the ingredients have combined to form a smooth cream.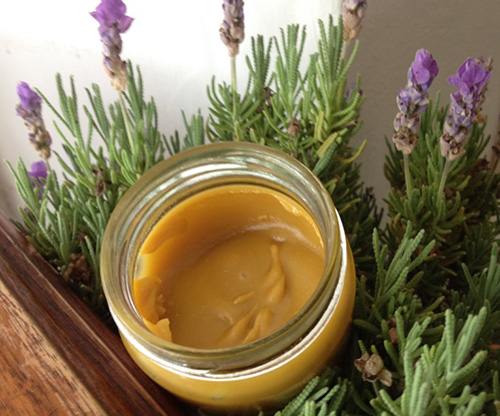 Application and Shelf-Life
Massage the cream into your skin as needed. Rubbing the cream into your chest and neck is an effective way to benefit from the topical as well as aromatic benefits of the lavender essential oil.
As an oil-based product, this whipped lavender cream has a shelf-life of a year.
You may also like:
7 Natural Remedies for Fibromyalgia Pain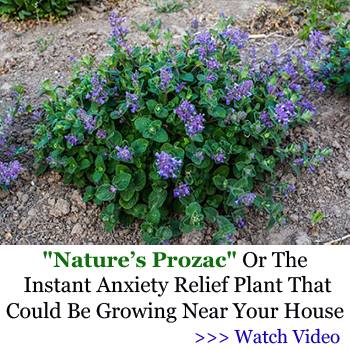 The Herb You Need to Keep Close During Dark Times (Video)
Medicinal Foods: 10 Recipes To Bring Lasting Health