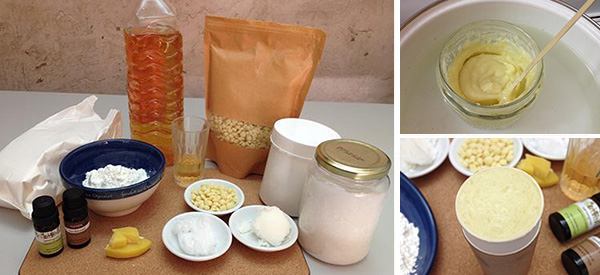 How to Make a Natural Deodorant Stick
Making your own natural deodorant can be an easy way to diversify your home remedy knowledge and skills, and it can be adapted to your own tastes, sensitivities, and health concerns.
When making your own deodorant stick, there are 4 points to consider first:
Which ingredients help you to stay dry.

Which ingredients help to treat the odor, while taking into account how sensitive your skin is.

Which ingredients help to solidify the mixture to make it solid enough to keep its shape when applied in stick form.

Which ratios result in an end product that has consistency and absorption that suits your individual needs.
1. Ingredients to Stay Dry
Both cornstarch or arrowroot powder are great for keeping you dry by absorbing moisture. They also act as thickeners for the mixture and can either be combined or used interchangeably.
2. Ingredients to Treat The Odor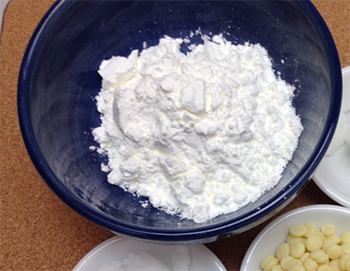 Baking soda is a very common ingredient in homemade deodorants. It eliminates odor by killing the bacteria that causes it and absorbs moisture to keep the skin dry. However, I found that it caused a mild skin irritation after less than a week, despite using only a small amount of baking soda. This common irritation is usually due to a clash between your slightly acidic skin and the alkaline baking soda. This can lead to damaging the skin and causing infection in some people.
Milk of magnesia is one suggested alternative to baking soda. It can make a good source of magnesium, as well as help to reduce odor, but it's thought to be less effective than baking soda with respect to controlling body odor. Milk of magnesia is a much stronger alkaline than baking soda, so it can disrupt the skin's pH balance even more than baking soda.
Zinc-based deodorants are another option since the pH is close to neutral and they are unlikely to irritate most skin types, however, zinc oxide and zinc ricinoleate aren't exactly something you can pick up at your local supermarket or forage for, so unless you make your own sunscreen, they aren't ingredients that many people would have on hand at home.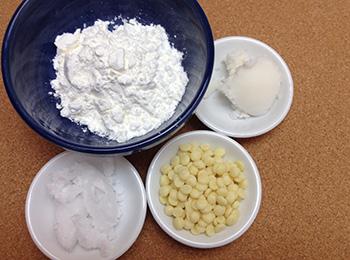 Apple cider vinegar has become my DIY solution. Like baking soda and milk of magnesia, it eliminates odors by killing the bacteria that causes it. But unlike them, it is acidic, so when balanced with other ingredients, it can potentially have a similar pH as your skin, which makes it less likely to irritate it – I can even apply it straight after shaving.
However, the only way to keep vinegar (which is water-based) and oil mixed together are to add an emulsifier. Even though the combination of cornstarch and beeswax can help to combine the mixture, if it reaches 113 °F, it will separate; which can lead to a quagmire at the bottom of your backpack or bag at the end of a hot summer's day.
In any water-based product, another crucial ingredient to add is a preservative: otherwise, the end product runs the risk of growing mold and bacteria. But luckily, vinegar acts as a mild preserving agent and will extend the shelf life from a couple of weeks to a month or so.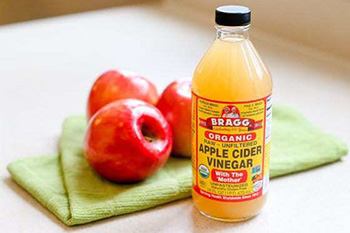 There is a simple solution to this oil-water-preservative conundrum for an everyday DIYer: Store it in the fridge. As long as you sterilize all of your utensils and equipment, and the initial mixing of cornstarch, oil, vinegar, and beeswax together is successful, then it will remain stable (and not separate) while it remains at room temperature, and by keeping it colder in the fridge, it is even less likely to go rancid. You can also add some citric acid as a preservative (to be on the safe side), which can be found in most supermarkets.
And finally, there is one last ingredient that you can add to minimize the chance of bacteria growing (both in the bottle and on your body), and that's essential oils. Good quality research has been conducted into the uses of essential oils to fight bacteria and microbes, so there is a wide range of them that you can add. Some of my favorite anti-bacterial essential oils to use include:
Tea tree

Lavender

Rosemary

Mint

Pine

Eucalyptus

Papaya or Pawpaw

Cinnamon

Lemon

Lemongrass

Sandalwood
3. Ingredients to Solidify The Mixture
Beeswax is a must for natural, homemade deodorant sticks, without it, the final product is more like a cream that would have to be stored in a jar and applied with your fingers. In addition to beeswax, adding a small number of solid oils, also known as butter to your natural deodorant stick will help with the consistency as well as the absorption into your skin. There are 4 common ingredients that are solid at room temperature that you can use to minimize the amount of beeswax required to harden the deodorant stick:

Coconut oil is anti-bacterial and anti-fungal, but it melts quickly on the skin so it should be used sparingly when choosing to specifically make a deodorant stick, as opposed to a deodorant cream.
Shea butter has anti-bacterial properties as well. It is a solid at slightly higher temperatures compared to coconut oil but also is stickier than coconut oil.
Cocoa butter is known as a brittle or hard oil at room temperature, so it is a great option for reducing the amount of beeswax required.
Aloe Vera gel can apparently also be used to decrease the amount of beeswax required, but it might change the consistency and texture of the final product.
4. Ratios, Consistency, And Absorption
I would definitely recommend trying a few different deodorant recipes. Everyone's skin type is different, and we all have different proportions of colonies of bacteria growing on it which means what works for one person, won't necessarily have the same success on someone else.
The same goes for the consistency; many recipes recommend roughly equal portions of oils/butter, dry ingredients, and beeswax, however, I found that with the addition of apple cider vinegar, I had to use more beeswax to get a final product that was solid enough at room temperature; it was more beeswax stick than a deodorant stick. In the end, I increased the amount of corn starch slightly and substituted some of the coconut oil for cocoa butter, which allowed me to decreased the amount of beeswax.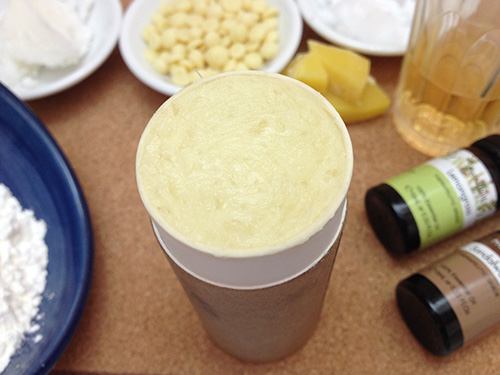 I tried a few different methods and found that combining the oils with the cornstarch first, and adding the vinegar last gave me the smoothest consistency.
Stains on clothes is a commonly reported problem for people using natural or homemade deodorants. This may occur due to the use of butter (solidified oils) and beeswax, but if you wait a couple of minutes before dressing, then the deodorant will absorb into your skin without staining your clothes (this is the same principle you apply to other lotions and sunscreens; once they have been rubbed in and absorbed into your skin, they don't stain clothes either).
Recipe for a Natural Deodorant Stick
Below you can find a simple recipe for a natural deodorant stick that utilizes apple cider vinegar. It's effective for both myself and my husband and doesn't cause any skin reactions.
Ingredients:
3 tablespoons of cornstarch

1 tablespoon of shea butter

1 tablespoon of coconut butter

1 tablespoon of cocoa butter

1 tablespoon of apple cider vinegar

14 – 15 grams of beeswax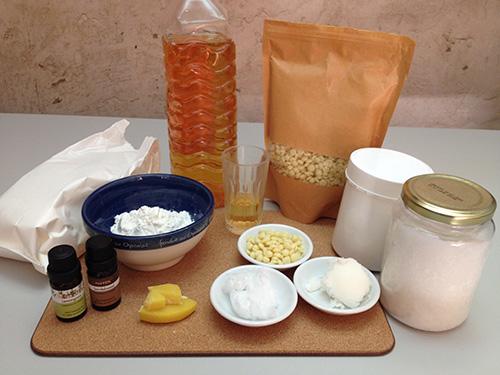 Method:
arm up the coconut oil, shea butter, and cocoa butter in a double boiler (I use a glass jar in a pot) until they all melt together.

Add the cornstarch and stir until it has mixed evenly.

Add the beeswax and stir until it has melted.

Add the apple cider vinegar and stir thoroughly. The mixture will turn glutinous and it's important to continue stirring until the mixture has a relatively even consistency (this may take a while, but it's faster with a small hand whisk). The mixture should be thick, similar to a cake mix.

Test the consistency: Add more oils and butter to soften the mixture, or more beeswax to make it harder; or more corn starch to increase the chalky feeling.

Add your chosen essential oils (a few drops of each scent).

Scrape your mixture into an empty deodorant stick, give the stick a few solid taps on the bench to remove any air bubbles, and allow it to cool to set.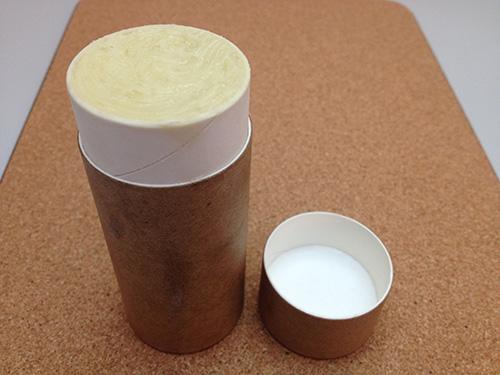 Tips for Success
Since this natural deodorant contains vinegar, it will corrode any metal over time. I bought a cardboard deodorant tube online to use, however, obviously, I wasn't able to sterilize this container, and it will only have a single-use. In hindsight, the glass would have been preferable.

The cornstarch makes the mixture cool down much slower than a beeswax salve, so you have slightly more time to scrape your mixture into deodorant containers.

If you want to add more cornstarch in step 5, it's better to mix the cornstarch with a little oil to form a paste, rather than just adding pure cornstarch to the mix (which will result in lumps).
You may also like:
50 Essential Uses of Apple Cider Vinegar
A Natural DIY Antibiotic Salve Recipe to Keep Around (Video)
DIY Wilderness Soap And Shampoo From This Plant
How to Make a Chaparral Salve for Wounds And Skin Infections