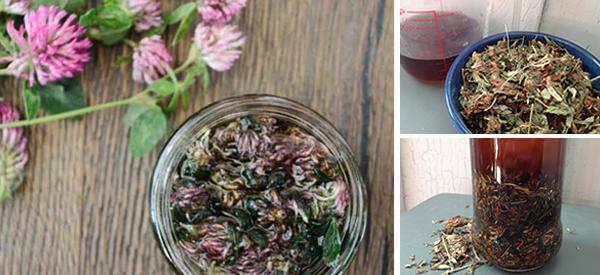 Fermented Red Clover For Rebuilding Bone Mass
Even though red clover has been a popular stock feed for over a century, its popularity for human consumption has recently skyrocketed due to some very interesting research in this field; primarily with respect to increasing bone mass, something which was previously thought to be almost impossible in adults.
How does red clover rebuild bone mass?
The isoflavones in red clover are structurally similar to estrogen, which is why most red clover bone mass or osteoporosis studies are based on menopausal women. The main difference between red clover isoflavones and estrogen is that estrogen attaches to alpha-receptors which are primarily found in the breasts and ovaries, whereas red clover isoflavones attach to beta-receptors which are found in the kidneys, lungs, intestines, and most importantly, around the bones.
Both Trifolium medium and Trifolium pratense increased the amount of calcium and phosphorus content in the femur and tibia of rats, but only T. pratense strengthened both the shaft of the bone (the diaphysis) as well as the growth plate (the metaphysis). Both species contain four aglycones: formononetin (60%), biochanin A (30%), genistein (<10%), and daidzein (<10%).
Why should you ferment your red clover?
Research shows that the isoflavones found in red clover become more bioavailable when fermented. The four main isoflavones begin as glycosides, which still have numerous health benefits (especially concerning treating various menopausal symptoms), but when fermented, they turn into aglycones which bind to beta-receptors and therefore can increase bone mass.
Yeast versus bacteria fermentation
This remedy is sugar-based in order to encourage the naturally occurring yeast present in the plant to produce weak alcohol for the extraction process.
If there isn't enough sugar, then the lactic acid-producing bacteria will dominate instead. This isn't a bad thing, in fact, this is how many other fermentation foods are made, but for this remedy, we are trying to catch the isoflavones in their aglycone state, which requires sugar-based fermentation.
TIP: Soybeans for extra potency.
If you have some available, ferment your red clover with soybeans to boost the amount of daidzein. Daidzein stimulates the gut flora to make the other isoflavones more bioavailable for your body to utilize. For most home remedy makers, daidzein is best extracted from soybeans in the alcohol which is produced during the fermentation process anyway.
Ingredients
Ideally, freshly picked, unwashed red clover leaves and flowers should be used, but at this time of year, I will have to make do with dried clover and extra water.
Red clover
Clean water
Raw or brown sugar
Fresh Clover Method
Harvest 2 cups of fresh red clover leaves and flowers and weigh them.
Weigh out an equal amount of brown or raw sugar and thoroughly massage it into the clover.
Thoroughly pound and pack the mix into a sterilized jar until it is almost full.
Add filtered water so that all the plant matter is submerged and continue to pack the clover so that all the air bubbles rise to the top. It is important that the plant matter stays submerged throughout the whole process to avoid mold, so you may need to weigh down the plant matter with something food-safe, such as a small ceramic dish or glass jar that has been sterilized.
Cover the top of the jar with a piece of material secured with a rubber band (the mix needs to be able to breathe). Otherwise, if you are using a regular lid, you will need to open it twice a day to 'burp' the mix.
Leave the jar at room temperature for 24 hours.
After 24 hours, the mix will have settled and bubbles will start to appear on the surface. If you are using a regular lid, make sure the jar is about 2/3 full to allow for enough oxygen. If you are using a cloth cover the jar can pretty much be full.
The fermentation process will take between 3 – and 7 days, depending on room temperature. If you are using a cloth cover, you may need to add more water and sugar to the jar.
The fermentation process is complete when;

the bubbles on the surface start to decrease.
the mix will have a very light alcohol smell (and fresh silage smell).
it will taste sweet.
If you are using a regular lid, then the 'burping' will subside.

Once you are satisfied with the mix, straining and storing it in the fridge will stop the fermentation process.
Dried Clover Method
Dissolve 5 tablespoons of brown or raw sugar into half a cup of warm water.
Add about 0.9 oz (25 g) of dried clover and mix thoroughly (at least 3 minutes).
Follow steps 3 – 9 from the fresh clover method above. I tried several methods to keep the dried clover submerged and found that a small jar with a tea strainer pressing it down was the best method.NOTE: the fermentation process will take an extra week when using dried produce, but it can be sped up by adding a sprinkle of instant yeast.
Dosage
On average, an effective dosage is about 3.5 oz (100 ml) per day.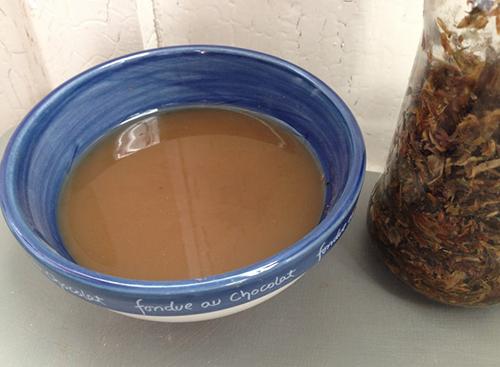 Most users take 2 tablespoons, three times a day.
Do not use it in combination with blood thinners.
Storage
As long as strict hygiene is followed, the fermented red clover should last for one year when stored in the fridge.
This remedy may take a bit of patience, but it is incredibly easy to prepare, although figuring out the best method for keeping the dried red clover submerged was a bit of a sticky DIY challenge!
But despite this, the benefits of fermented red clover on rebuilding bone mass are unmistakable thanks to some very strong research in this field.
You may also like: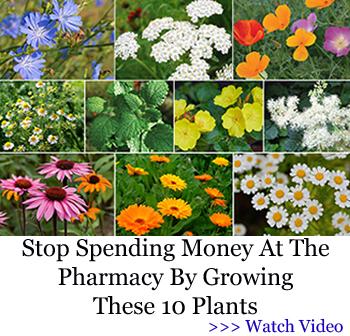 DIY Vitamin Gummies For The Whole Family
Similar to Morphine: The Best Natural Painkiller that Grows in Your Backyard (Video)
Build Bone Strength with This Juice
Why Should You Add Figs to Your Daily Diet?