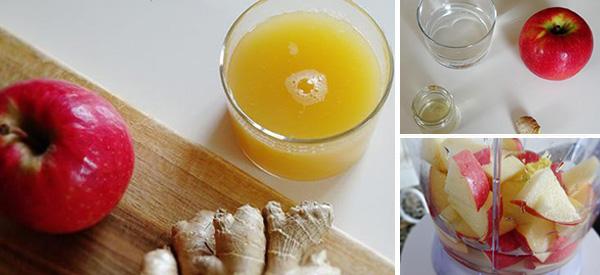 Fat-Blocking Ginger Juice
Fat blockers help to prevent our bodies from absorbing fats. The fats are then expelled from the body naturally. They also help you feel full for longer which can help reduce your food intake. Some foods are natural fat blockers which are a healthy alternative to pharmaceuticals.
Even if you're not trying to lose weight it is important to maintain a healthy weight and it's all too easy to put on weight! Preventing excessive weight gain and obesity is important because it can lead to so many other diseases and conditions such as cancer, cardiovascular diseases, and type 2 diabetes. While this juice can help block fat, a healthy diet and exercise still need to be followed to maintain a healthy weight and body condition.
The ingredients in this juice that can block fat are ginger, apples, and apple cider vinegar. This makes it a good option for helping to block fat and also providing so many other nutrients that the body needs at the same time.
Medicinal Benefits Of This Ginger Juice
First, let's take a look at how the ingredients in this juice will help block fat. Then I will describe the other health advantages they offer.
How Does This Juice Work To Block Fat?
Ginger has long been used in herbal medicines and it can help prevent and treat a number of ailments. It helps to block fat by slowing the accumulation of belly fat by lowering the cortisol levels that trigger the process. It may also reduce atherosclerosis, which is the buildup of dangerous fat in the arteries.
Apples are able to block fat because of their pectin. Pectin is a soluble fiber and it absorbs water and forms a viscous consistency. By increasing mass it makes you feel full so you don't feel the need to eat more. It also does this by slowing down how quickly your stomach empties and means it takes longer for food to enter the small intestine. By slowing digestion down, pectin also has the added bonus of allowing better absorption of nutrients.
Apple cider vinegar has acetic acid and pectin. The acetic acid in it can reduce the storage of fat in the belly and liver. It also suppresses your appetite which can help control food intake. On top of this, it speeds up your metabolism helping to burn calories faster.
What Other Health Benefits Do These Ingredients Provide?
The gingerol found in ginger is one of its main compounds with medicinal properties. This powerful compound can help prevent certain types of cancer. It also helps fight harmful bacteria and infections, reducing the risk of developing some diseases. Ginger can help manage osteoarthritis by reducing pain and disability. It can also lower blood sugar levels making it beneficial for people living with type 2 diabetes. Taking ginger daily can lower cholesterol levels too which could lower the risk of developing heart disease.
 The humble apple has a surprising number of health benefits. The soluble fiber in them can help lower blood cholesterol levels. They also have polyphenols which are antioxidants. One of these is flavonoid epicatechin, which can help lower blood pressure. The antioxidant properties also lower the risk of developing type 2 diabetes. They may also prevent cancer thanks to their antioxidants and anti-inflammatory effects. Eating apples has also been linked to better bone health by reducing the amount of calcium lost from the body. Various compounds in apples can also minimize mental decline and possibly help restore memory.
Apple cider vinegar also has its fair share of health benefits and has been used as a remedy for centuries, if not longer. Consuming a small amount each day (1-2 tablespoons) can help you to lose weight. It also aids with digestion and can reduce bloating and get rid of heartburn. The healthy bacteria found in it protects the immune system warding off infections and helping us to recover from illnesses faster. Apple cider vinegar also lowers triglycerides which cause fatty plaque buildup along the arteries, improving heart health.
How To Make This Ginger Fat Blocking Juice
The quantities in this juice are enough for one serving and will have approximately 125 calories in it. It is best to make this fresh each time you drink it and have it straight away, or soon after preparing it.
Ingredients
1 tsp grated ginger
1 red apple
1 tbsp apple cider vinegar
½ cup water
Equipment
Blender (or juicer)
Bowl (if using a blender)
Fine-mesh strainer (if using a blender)
Method
Wash your apple under running water (there is no need to dry it after).
Cut it into small chunks and discard the core. Then add it to your blender (or juicer). You won't start blending until all of the ingredients are in.
Peel some ginger and grate it using a Microplane or the finest edge of a grater so that you end up with 1 teaspoon's worth. If you're using a juicer you don't need to grate it and can add it in as is.
Add 1 tablespoon of apple cider vinegar.
Add ½ cup of water. Blend it all on high for at least 30 seconds or until it has all blended well.
If you're using a blender, place your fine-mesh strainer over a bowl large enough to catch the liquid. Push down on the pulp with a spoon to extract any remaining juice.
Pour your juice into a glass and drink it straight away.
Drink some water afterward to get rid of any vinegar that could be lingering on your teeth.
While apple cider vinegar has many health benefits you should always rinse your mouth out with water after drinking or eating it because it can affect your tooth enamel. For this reason, you should also drink it with some water rather than straight.
This is a drink with a slight kick to it thanks to the vinegar and the ginger. If you don't like strong flavors you can test it first and dilute it with more water if you like. It's very refreshing though and you can add ice if you prefer your drinks cold which makes this a lovely drink on a warm day. Otherwise, it's a very warming drink on a cool day.
You may also like: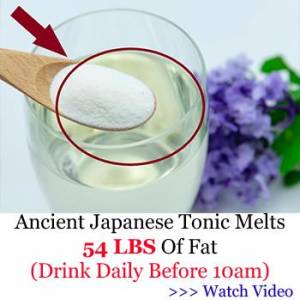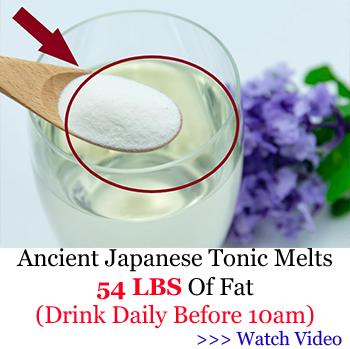 How to Make A Weight Loss Tonic
1 Cup Before Bed Shrinks Belly Fat All Night (Video)
Bedtime Drinks That Burn Belly Fat
How to Make Fat Burning Cream at Home
DIY Colon Detox with Ingredients You Have in Your Kitchen Right Now