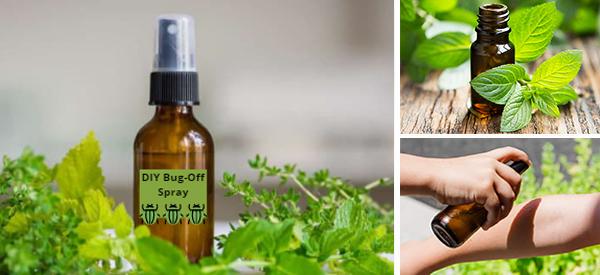 During the summer months, pest activity is heightened due to the warmer weather. On top of that, your family is likely spending a lot more time outdoors, increasing the chances you'll have a run-in with more bugs than usual.
This is an easy recipe for keeping bugs at bay. Using essential oils, water, and a tinted glass spray bottle. Cobalt blue and amber are the most commonly used.
About the ingredients
For this recipe, I have chosen essential oils of lavender, lemongrass, peppermint, and thyme.
Lavender. Lavendula augustifolia from the botanical family Labiatae is the universal, go-to essential oil used to calm and balance the body in almost every situation. And repels mosquitoes too.
Lemongrass. Cymbopogon flexuosos. This essential oil is known for having antibacterial, anti-inflammatory, and antiseptic properties. In addition, it has a powerful and warming smell, which you either love or hate. Lemongrass is an insect repellent and has been used historically as an insecticide. Lemongrass is commonly mistaken to be part of the citrus family because of its name. It is, in fact, from the botanical family Gramineae meaning grasses. Lemongrass looks like grass and is used in tea and culinary dishes.
Peppermint. Mentha piperita Botanical family: Labiatae. Another wonder plant with many healing properties. Commonly known throughout the world as a digestive aid, the leaves are drunk in many parts of the world as a  refreshing herbal tea after dinner. In addition, peppermint is a cooling oil and can help soothe itchy skin.
Thyme,  Thymus vulgaris is from the same botanical family as peppermint, Labiatae and is used for bites and stings
The recipe
8 ounces of water
5 drops of lavender essential oil
5 drops of lemongrass essential oil
5 drops of Peppermint essential oil
1 drop of thyme essential oil
Here I am adding 5 drops of lavender essential oil.
Here I am adding five drops of lemongrass essential oil.
Here I am adding five drops of peppermint essential oil.
And 1 drop of thyme essential oil.
I gave it a quick stir with a paper straw. You don't have to do that. If you have a spray bottle large enough to hold a cup of water, then add the oils directly to your container. I am using a small spray bottle because I carry the bug spray with me. Making this amount because we get through it quickly.
I am using a plastic jug to decant my liquid into a small spray bottle. It has a tiny spout and, I found this the most convenient way to get the liquid into the bottle. You may have another system, and it is OK to go with that.
Decanting liquid into a spray bottle.
Here we are, the finished product. Nice and easy. I put my excess liquid into a wine bottle and keep it in the fridge. Even though the shelf life is long with essential oils. This recipe will get used up pretty quickly. We are experimenting with this in the bathroom as little bugs come up through the drain.
Don't forget to give the bottle a good shake before use.
Safety info
Thyme. Avoid through pregnancy and use with caution if you have high blood pressure. If using with children under 6, dilute even more. Rather than a drop of essential oil. Put a toothpick in the bottle swirl the toothpick in the water mixture.
Peppermint. Avoid through pregnancy and use with caution if you have high blood pressure.
You may also like:
Similar to Morphine: The Best Natural Painkiller that Grows in Your Backyard (Video)
The Best Flowers to Attract Beneficial Insects to Your Garden
How to Make Black Drawing Salve for Boils, Wounds, and Tick Bites