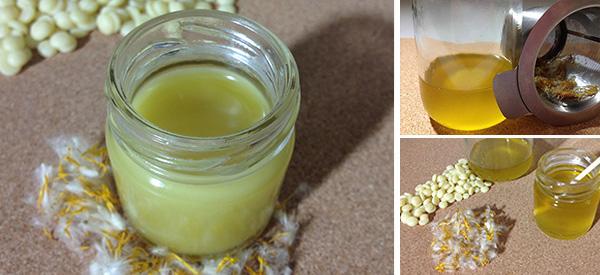 DIY Arnica Salve For Age Spots
Traditionally used for treating bruising and muscle pain, Arnica has more recently been used in many cosmetics as well.
It is a member of the sunflower family and is incredibly hardy.
Arnica has a number of different types of antioxidants, fatty acids, and other organic acids. One study identified eight different compounds in arnica that promote heat shock proteins, the result of which is arnica's ability to block the production of melanin and lighten discolored skin; including age spots, scars, and bruises when applied topically.
Compounds For Treating Age Spots
When considering what else to include in your arnica salve for age spots, try adding plants and oils that contain the following characteristics;
Vitamin C increases collagen production and the elasticity of your skin. It is a strong antioxidant, so it's perfect for repairing sun-damaged skin and spots. Vitamin C is naturally very unstable and breaks down quickly when heated or exposed to oxygen, so if you want to maximize the amount of vitamin C in any salve, then it shouldn't be heated above 86 °F for long periods. One study suggests that vitamin C doesn't technically reverse pigmentation, but rather prevents more melanin from being produced via heat shock proteins.
Vitamin E increases the benefits of vitamin C four-fold. It too contains heat shock proteins to block melanin from being produced. Olive oil is rich in vitamin E so it makes a great carrier oil for this recipe.
Vitamin A helps to exfoliate your skin so that new skin cells can be produced unimpeded. These new skin cells haven't been exposed to melanin, so will be lighter in color. Vitamin A also encourages collagen production which improves the elasticity of your skin.
Copper is not only essential for building healthy skin cells but also plays an important role in removing dead skin cells. In this way, copper can help to tighten and tone your skin.
Anti-oxidants have numerous roles, one of which is to protect your skin cells and reduces the appearance of age spots.
Other Suggested Plants For Treating Age Spots
As always, combining multiple herbs is more effective than a single herb, so below is a shortlist of other herbs and spices that you can consider adding to your arnica infused oil or salve for age spots: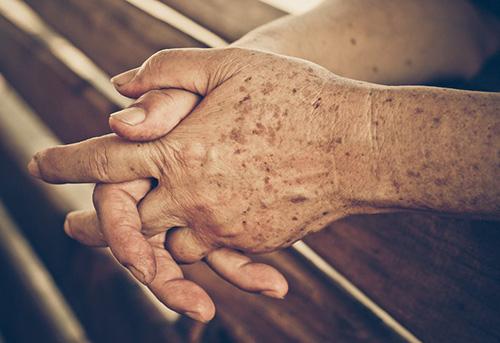 Pomegranate seeds are effective at lightening both age spots and sun spots due to the high concentration of vitamin C, antioxidants, and copper. They also contain some vitamin E.
Licorice root has anti-oxidants and has been shown to reduce skin blemishes and inflammation. Licorice root also slows down the breakdown of vitamin C so that your skin has more time to absorb it. It has trace amounts of copper, but plenty of other nutrients including vitamin E.
Lemon essential oil is packed with vitamin C which also increases collagen. Its anti-oxidants are great for cleansing and toning your skin.
Rosehip essential oil is full of vitamin A, vitamin C, vitamin E, and antioxidants, and it contains some copper as well.
Apricot kernel oil contains vitamin A and vitamin E.
Soy products lighten your skin by preventing the attachment of melanin to skin cells. It also boosts collagen production and is a strong anti-oxidant. Soybeans have a high concentration of essential minerals, and they contain some vitamin C, vitamin E, and trace amounts of vitamin A. Soy also extend the active phase of essential oils. You can either infuse dried, unroasted soybeans or soy meal into the carrier oil, or purchase soybean oil that still contains some vitamin E.
Recipe For DIY Arnica Salve For Age Spots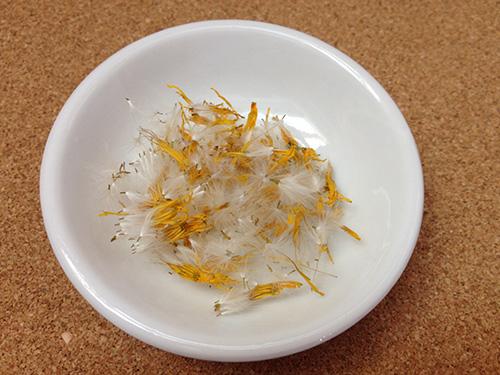 In this 3-step recipe, first, the dried arnica needs to be infused into the carrier oil at low temperatures, and then in the second step, beeswax and carrier oil is melted together at a higher temperature.
Finally, in the third step, the temperature is reduced again so that the arnica infused oil can be added to the mixture without overheating it.
The quantities below will make approximately 5 tablespoons of arnica infused oil. This salve recipe requires 1 tablespoon of arnica infused oil, so there is enough oil to make 5 batches of salve.
Step 1: Create a DIY Arnica Infused Oil
Add 1 tablespoon of dried arnica, 2 tablespoons of olive oil, 2 tablespoons of cocoa butter, and 1 tablespoon of coconut oil into a glass jar (i.e., the infusion rate is 1-part dried arnica to 5-parts carrier oil).
Optional: Add 1 teaspoon of dried pomegranate seeds, 1 teaspoon of licorice root, 1 teaspoon of sage, and 1 tablespoon of apricot kernel oil or soy oil to the jar.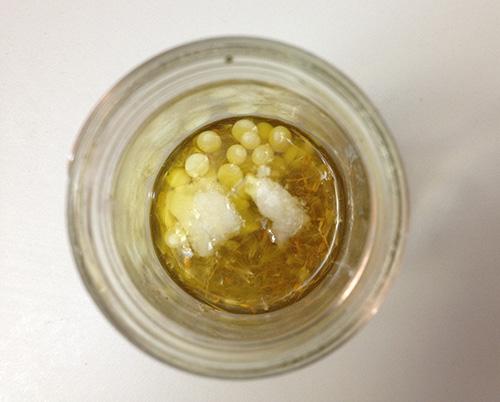 Screw the lid on the jar and set it in a pot of warm water (no more than 89 °F to keep the vitamin C intact) for 4 – 5 hours. Shake the jar and reheat the water every 20 – 30 minutes or so.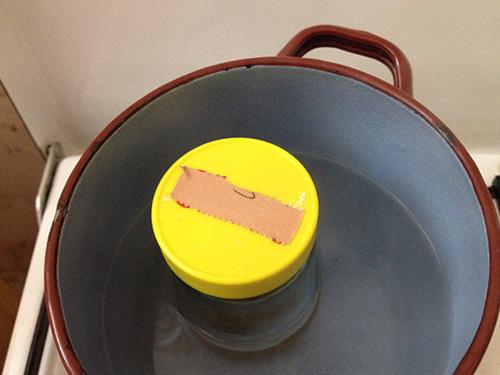 Strain the oil and label as UNDILUTED arnica infused oil. Some of this concentrated arnica oil will be further diluted with olive oil at a dilution rate of 3-parts arnica oil with 7-parts carrier oil in step 3.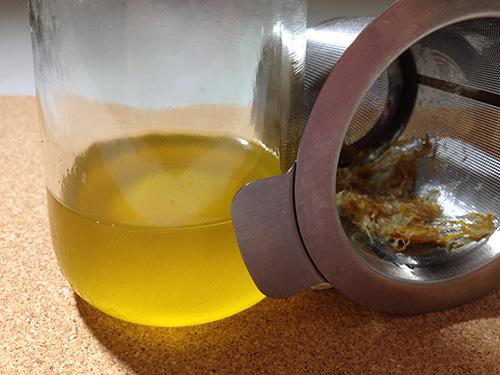 Step 2: Melt And Combine The Beeswax With The Carrier Oil
Add 2 ½ tablespoons of olive oil and 1/3 oz of beeswax to a small glass cosmetics jar. Set the jar in a pot of warm water again (approximately 150 °F). Stir until it has melted.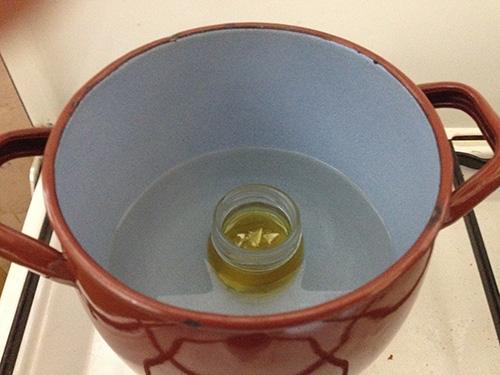 Note: It's quicker to soften a salve with the addition of oil compared to hardening it by melting more beeswax. Particularly for this recipe, it's better to have too much beeswax at the start rather than too little. This will result in a salve with a slightly harder consistency which you can easily soften at lower temperatures by adding more oil, while still retaining as much vitamin C as possible.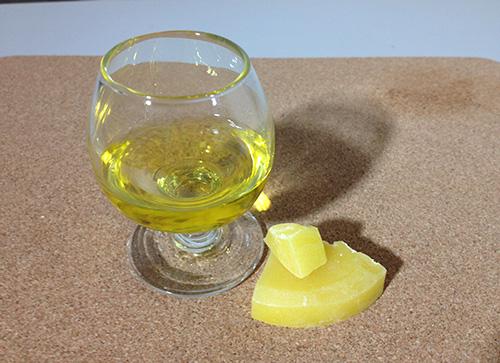 Step 3: Create a DIY Arnica Salve
Remove the jar from the pot of warm water and wait for the mixture to cool down to around 89 °F (to ensure the vitamin C remains intact and stable). Add 1 tablespoon of your arnica infused oil from step 1 (you may need to re-heat the mixture briefly to ensure it is combined thoroughly).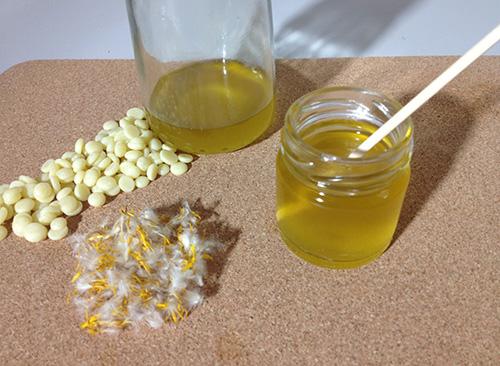 Test the consistency with a cold spoon and add a few more drops of oil if you need to soften the salve. Stir in a few drops of your chosen essential oil (I have chosen both lemon and rosehip essential oil).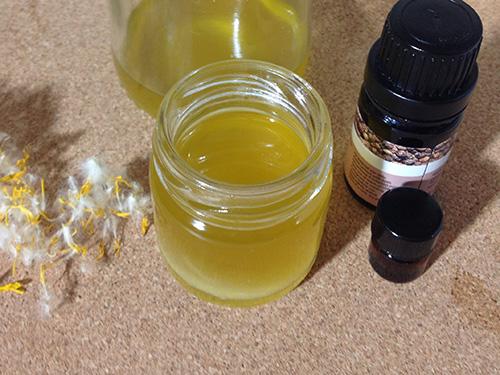 Leave to cool and solidify. You can use this salve as part of your daily routine, or target specific age spots multiple times a day.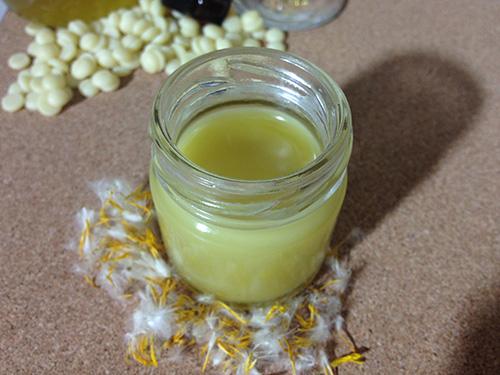 This salve isn't going to completely remove age spots or sunspots, but it will reduce their size, lighten the color them, and improve the tone of your skin over a 4-week period.
Caution:
All species of arnica are toxic when eaten in larger quantities, and it's not recommended to apply arnica products directly on broken skin, especially over a longer period. Arnica products should not be applied close to the eyes or mouth, as they can impact the mucous layer.
The toxicity of arnica means that arnica products must be either heavily diluted (like the recipe below), or processed into oil to reduce the toxicity. Unfortunately, this process also removes some of the anti-oxidants and other beneficial compounds as well. Infusing dried arnica flowers into a warm carrier oil is one way to ensure the health benefits found in arnica are kept intact.
People who are allergic to ragweed, marigolds and other flowers in the daisy family should avoid using any Arnica products since it too will cause a rash.
You may also like: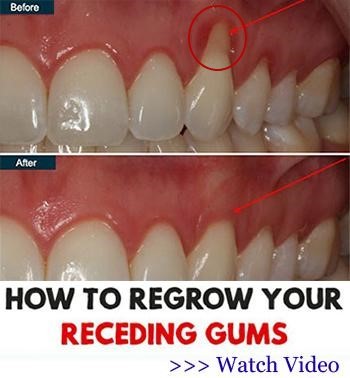 10 Plants That You Should Never Plant Together (Video)
How to Make a Natural Deodorant Stick
How to Make a Chaparral Salve for Wounds And Skin Infections
DIY Colon Detox with Ingredients You Have in Your Kitchen Right Now