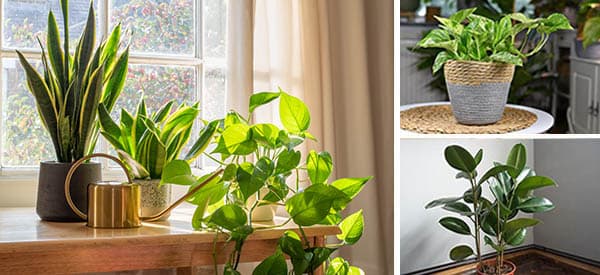 11 Plants That Purify the Air Inside Your Home
Did you know that indoor air quality can be 2-5x worse than outdoor air?
On average, people in industrialized countries spend about 80% of their time indoors, so it's important to be conscious of the air quality in your home and how it may impact your health.
Toxic chemicals from cleaning products, personal care products, plastics, fragrances, and even furniture and building materials can pollute the air in your home. Taking steps to reduce your use of toxic chemicals is important in creating a cleaner environment inside your home. Bringing house plants into your home can be another effective way to purify the air while brightening and bringing life into the place where you spend the majority of your time.
How do plants clean the air?
Through the process of photosynthesis, plants absorb gases through their leaves and convert carbon dioxide and light into energy. Researchers have found that in addition to these gases, plants also absorb VOCs (volatile organic compounds). This helps purify our air, reducing carbon dioxide, pollutants, and dust levels.
Here are 11 of our favorite house plants to help purify the air in your home.
1. Spider Plant
Spider plants require little maintenance and are powerful in purifying the air in your home. A study done by NASA found that spider plants got rid of 95% of toxic air from a sealed chamber in just 24 hours! Spider plants can remove formaldehyde, xylene, and carbon monoxide, as well as dust and dander. These are great to keep in your kitchen or any room where you want to ensure the air stays clean. They require light watering every week or so and thrive, even in shady spots, making them a versatile plant to have in your home.
2. Philodendron
Philodendrons are one of the most common houseplants you see in homes. They're beautiful, fast-growing, easy to care for, and remove formaldehyde, benzene, and other toxins from your air. Philodendrons take full sun to shade, which means they can be happy almost anywhere in your home! Water them every week or so, allowing the soil to dry fully between waterings.
3. Snake Plant or "Mother-in-Law's Tongue
Snake plants are easy to find at your local nursery or hardware store and are incredibly easy to take care of! They can survive anywhere, and you don't have to worry about watering very often. Snake plants have the unique ability to convert carbon dioxide (CO2) into oxygen at night, making them ideal plants for your bedroom.
4. Peace Lily
Not only are they beautiful, but peace lilies have the ability to improve air quality by up to 60%. They can clear the air from formaldehyde, benzene, toluene, xylene, and carbon monoxide. They help to absorb mold spores and can be useful in high-humidity areas like bathrooms. Peace lilies will start to droop when they need to be watered, usually about once a week.
5. Chrysanthemum 
Chrysanthemums are a great choice if you're looking for a flowering plant to brighten up your living room or kitchen. You may be accustomed to having these plants outdoors, but they also make excellent houseplants! They filter out many toxins, including ammonia and benzene. These plants like lots of moisture, so be sure to water them at least every other day.
6. English Ivy 
English Ivy is an easy-growing, beautiful woody vine. While it's most often seen covering buildings, it's a great plant to accent your home decor and keep your indoor air clean. It is particularly effective in reducing benzene and can combat mold growth, making it the perfect plant to purify the air in your bathroom. Their soil likes to stay moist but not soggy, so water every 5 to 7 days.
7. Golden pothos 
Golden pothos are virtually indestructible and flourish in a variety of conditions. They're also one of the most effective indoor air purifiers. Pothos can tolerate low light, so they're great to keep in your dining room, office, bathroom, or any central area of your home. They tend to trail, so they make great plants to accent your mantle or bookshelf. Water your pathos every week or so, allowing it to dry out fully between waterings. If you begin to notice yellowing leaves, you may be watering too much.
8. Chinese evergreen 
Chinese evergreen plants are patterned and colorful and come in various varieties. They're extremely versatile and sturdy, growing anywhere in any light conditions. You can add chinese evergreen plants to any room that needs a little purifying and water it every few weeks.
⇒ Put These Plants In Your Pillow To Relieve A Sinus Headache (Video)
9. Bamboo palm 
Bamboo palms are a great choice if you're looking for a larger plant to add to your home decor. They eliminate toxins such as formaldehyde, benzene, carbon monoxide, xylene, chloroform, and more and add moisture to the air – a perfect addition in dry winter months. Bamboo plants like to remain constantly moist but won't tolerate standing water, so ensure you plant it in well-drained soil and water a few times each week.
10. Rubber plants 
Rubber plants are beautiful, air-purifying, and produce more oxygen than any other plant! Additionally, they are effective in removing mold and bacteria from the air. Rubber plants like bright, indirect light and can grow quite large when properly cared for. You'll want to water your rubber plant every week or two, allowing the soil to dry out between waterings.
11. Boston Fern 
These beautiful feathery ferns can be grown both indoors and outdoors. When grown indoors, they can filter xylene, formaldehyde, toluene, and benzene. They also add moisture to the air to increase humidity levels and benefit your breathing and skin. It's important to keep your Boston fern watered regularly and keep it in the sunniest part of your home.
---
Plants are a great way to purify the air inside your home to create a safe, clean space for you and your family. You can find many more tips for reducing toxins and creating a cleaner home on our website.
You may also like: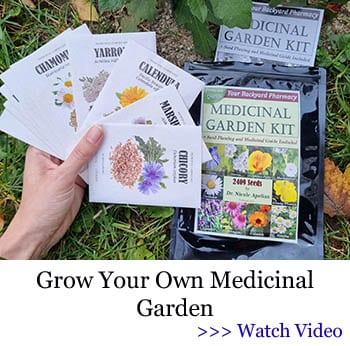 10 Beneficial Plants The Government Doesn't Allow You To Grow
13 Homemade Fertilizers for Your Plants (Video)
How To Protect Yourself Against Radiation With These 5 Herbs
If You Have a Pet, Get Rid Of These Plants Immediately!