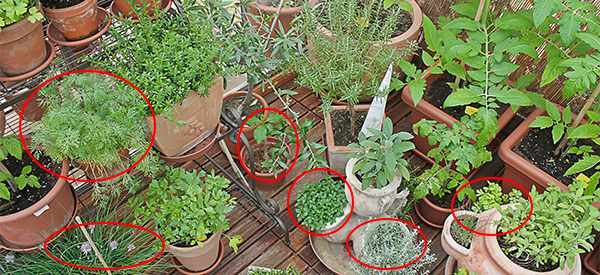 10 Natural Antibiotics You Can Find in Your Garden
Antibiotics are a life saving tool when used appropriately, but in 2018, the World Health Organisation (WHO) stated, "antibiotic resistance is one of the biggest threats to human health, food security and development today".  Because bacteria, having been on earth for about 3.5 billion years, are extremely adaptable, they are able to change and become resistant to antibiotic medicines. Unfortunately, antibiotic misuse and overuse has enabled many infectious disease-causing bacteria to become resistant, making it much harder to treat these diseases. Studies have shown that some doctors may prescribe antibiotics before they know whether an infection is viral or bacterial even though, if the problem is viral, antibiotics will not help.
Certainly, there is an important role for antibiotics in healthcare, particularly for those suffering from multiple issues or other problems which may affect the immune system. It is important to have your doctor diagnose any serious ailment as it could be more than a small bacterial infection and other treatment options may need to be considered.
That being said, being able to prevent and treat minor ailments at home using plants from your own back yard could be easier than you think and could help boost your own immune system while you're at it. Interestingly, the WHO estimates that over half of the world's population still rely on traditional, plant-based medicine, many of which we can even grow ourselves.
Garlic (Allium sativum)

To say I am fan of garlic would be an understatement.  As I prepare for this year's garlic harvest, which will happen in a couple of weeks, I'm slowly using up the last of last year's harvest.
The garlic is double cured and stored at a consistent cool temperature in the root cellar in the dark.  I grow eight varieties of hard neck garlic, as hard neck garlic is hardier than the soft neck garlic grown in warmer climates.  The garlic from the garden enables me to travel the world in my kitchen as so many cultures use garlic in their cuisines.
The health benefits of garlic are many with scientific studies showing garlic having antibiotic properties in addition to a wide range of therapeutic and preventative attributes including reducing cancer risk, cardiovascular risk factors, and as an antioxidant and detoxifying agent.  There is evidence that garlic has antifungal and antiviral benefits also.
For health purposes garlic is best used raw which to be honest, even for me, is a challenge.  I use a lot of it cooked which I feel is beneficial but research does show allicin, a compound created when garlic is chopped or crushed, is the principal bioactive compound, and some research suggests that aged raw garlic has even more bioactive compounds which are even more beneficial!  I would suggest experimenting to find a way that you enjoy raw garlic to maximize its healthful potential.  It is available in tinctures and supplemental forms as well.
One way I use raw garlic is in homemade tzatziki, which is delicious, but I'm not sure you could eat it everyday. However, it might be something you could add in here and there to increase your raw garlic intake.
Tzatziki
1 to 2 cloves garlic, peeled and chopped
½ cucumber, peeled, deseeded, grated, and excess moisture pressed out
2 tablespoons fresh dill weed, or 1 tablespoon dry dill weed
2 cups plain natural or Greek-style yogurt
1 tablespoon lemon juice
Mix all ingredients together and let stand for a few hours or overnight.  Serve as a refreshing dip with Greek-style food such as souvlaki, as a vegetable dip or accompanied with your favourite humus.
Onion (Allium Cepa L.)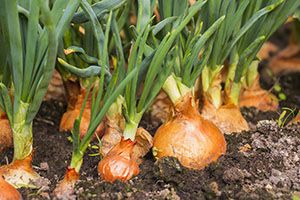 Garlic takes up 1/6 of my vegetable garden and onion takes up another 6th, so it could be said that I am equally a fan of this aromatic, healthful allium.  Harvested, cured, and stored, onions generally last until about the end of March in the root cellar, depending on the kind.
There are centuries of folklore involving the curative powers of onions, from having onion pieces scattered around the house to keep the family safe from germs to putting onion slices in your sock to rid yourself of a cold.
Although there is not much scientific evidence to back up these claims, there are studies which show antibacterial effect from onion water extraction in 6 of the disease-causing bacteria, including methicillin-resistant Staphylococcus aureus  (MRSA),  methicillin-sensitive Staphylococcus aureus (MSSA), Escherichia coli (E.  coli), Pseudomonas aeruginosa (P.  aeruginosa), Klebsiella species (Klebsiella Spp.), and Salmonella species (Salmonella Spp.), which is exciting news on the antibiotic-resistance front.
Cranberry (Vaccinium oxycoccos)

Out here in the Rocky Mountains, cranberry varieties grow wild on the riverbanks and used to be harvested locally, although, with the wide availability of commercial cranberry products, not very many people continue the practice.
Cranberries protect against E. coli infections because they contain A-type proanthocyanidins, which affect the surface properties of E. coli bacteria.  E. coli is the bacteria responsible for 85% of urinary tract infections, an infection which can lead to acute pyelonephritis, an inflammation of the kidneys.
Horseradish (Armoracia rusticana)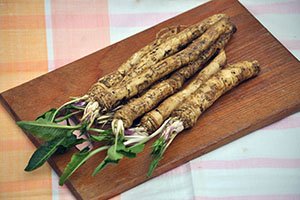 My father-in-law has uncovered the secret of growing and making excellent horseradish sauce, though he is not quite sharing the secret with me.  Horseradish is part of the brassica family and as such, contains isothiocyanates (ITCs) which studies show antimicrobial effect against E. coli, H. pylori, and C. difficile to name just a few.
Again, there is evidence that eating brassicas, such as horseradish, broccoli, and cabbage, raw will maintain the antibacterial properties when compared to eating these healthful vegetables after being cooked.
Oregon Grape (Mahonia aquifolium)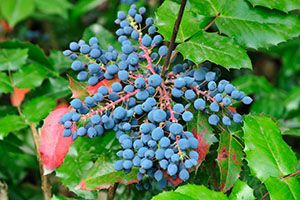 Berberine is an antibacterial component found in Oregon grape and a few other plants such as Goldenseal.  There is evidence of a synergistietween berberine and c interaction bantibiotic agents against some broad-spectrum microorganisms.
Oregon grape is a holly-like, wild plant native to western North America which grows in forested areas and is sometimes found in the home garden as an ornamental plant.  The berries are blue and small, edible but very sour and could be used as an outdoor emergency antibacterial agent.
Oregano (Origanum vulgare)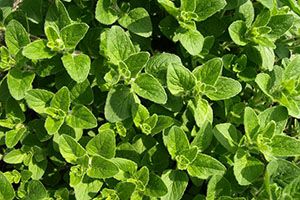 Not only is oregano a delicious, powerful herb for cooking, it is an easy to grow herbaceous perennial.
As it contains carvacrol and thymol, it is also a powerful antibacterial agent.  In laboratory testing, oregano extract had impressive antibacterial activity against all tested bacteria, including 13 bacterial strains and 6 fungi.
Thyme (Thymus vulgaris)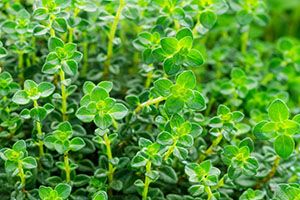 A very special herb which grows fairly slowly with a short harvest window, thyme is potentially my favorite herb.  It is also noteworthy as an antimicrobial agent in that it also contains thymol and in laboratory tests has shown antibacterial activity against 35 microorganisms.
Honey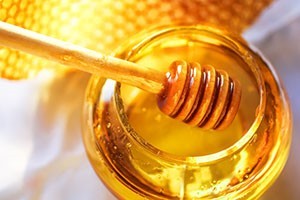 We use a lot of honey as there are many apiaries in our area and the competition is fierce as to who produces the best honey.  The final product outcome determined by gathering honey at higher elevations or what wildflowers are in the area is a conversation that could rival the world's sommeliers when discussing wine.
Evidence of the therapeutic attributes of honey have similarly been studied at length and the antibacterial properties are attributed to the hydrogen peroxide content.
Different kinds of honey have different levels of hydrogen peroxide along with many other antibacterial properties, which are affected by a large variety of factors such as where and when the honey was harvested and what the bees gathered pollen from. Famously, Manuka Honey may be much more potent than others.
Apple Cider Vinegar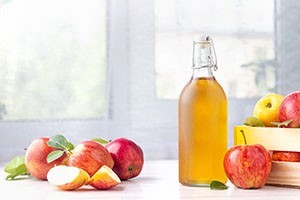 The production of vinegar goes back at least 5000 years and The Old Testament as well as Hippocrates reference the use of apple cider vinegar with honey to combat infection and protect open skin wounds.  In addition to its well-known healthful benefits, current laboratory studies of apple cider vinegar show antimicrobial action against E. coli, S. aureus and C. albicans.
Although honey and apple cider vinegar do not actually grow in plant form in the garden, they both may be produced at home in combination with the home garden, the natural environment, and some apples or apple trees.  For this reason, in addition to their incredible antibacterial properties, they have been included on this list.
Antibiotic salad dressing
2 cloves crushed garlic
2 tablespoons honey
½ cup apple cider vinegar
Mix these three ingredients until honey is diluted in vinegar, then add:
2 tablespoons chopped oregano
1 teaspoon chopped thyme
1¼ cup extra virgin olive oil or your favorite salad oil
Salt and pepper to taste.  Mustard is often a nice touch in this recipe also.
There are plant-based antibiotics surrounding us in nature, the garden, and the grocery store.  By utilizing some of these plants in our diet as well as medicine, we may be able to keep ourselves out of the doctor's office while our immune system keeps our good and bad bacteria in check.  Thank you for reading.
You may also like: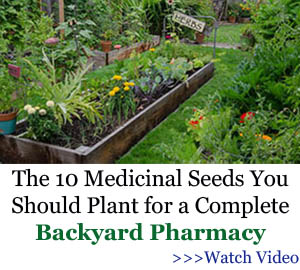 How to Make Black Drawing Salve for Boils, Wounds and Tick Bites
Similar to Morphine: The Best Natural Painkiller that Grows in Your Backyard (Video)
8 Medicinal Herbs You Should Be Picking This Summer
How to Make an Arthritis Tincture