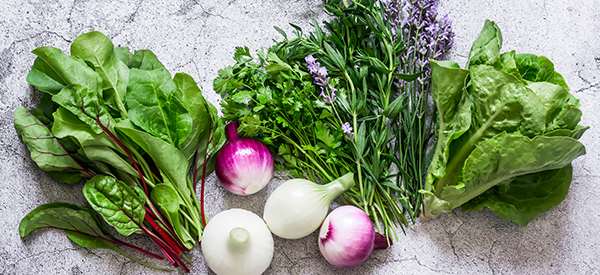 10 Fiber-Rich Plants That Support Weight Loss
Plant-based diets have long been recommended for weight loss and control. Unlike a lot of diets, they're backed by science: a recent study by the Physicians Committee for Responsible Medicine found that 64 overweight women who ate a plant-based diet and kept oils to a minimum lost around a pound a week without having to exercise or count calories. Two years later, they were still maintaining their weight loss.
Edible plants typically contain high levels of fiber, nutrients, and phytocompounds as well as water. These factors help control appetite, improve satisfaction, and provide nutrition for a healthy body. Below is an overview of 10 fiber-rich plants that can satisfy your cravings and keep your weight in control.
1. Kale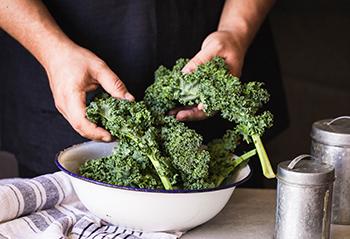 Kale contains several properties that make it an ideal weight-loss food. Not only is it low in calories while maintaining a high water content, it also has significant fiber levels and protein content that leave you full after every meal.
While there is no study directly testing the effects of kale on weight loss, it makes sense that kale would be a useful addition to a weight loss diet. It has a low energy density, and studies have shown that eating a lot of foods with a low energy density.
You can consume kale in stir-fries, salads, and even smoothies. It's ideal for any recipe that calls for green leafy vegetables.
2. Spinach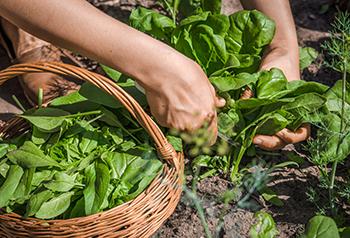 Spinach is regarded as one of the healthiest green leafy vegetables. A single cup of spinach provides you with protein, calcium, iron, magnesium, potassium, and vitamin A. It's also rich in insoluble fiber, which plays a key role in weight loss.
One study found that overweight women who consumed 5 grams of a spinach extract every day experienced a 43% greater weight loss than women who did not. The extract, which contained spinach leaf membranes called thylakoids, reduced cravings by up to 95%.
Like kale, the fresh and slightly bitter taste of spinach makes it an excellent addition to salads, smoothies, stir frys, and rice dishes. It's also delicious on its own, steamed or raw.
3. Beet Greens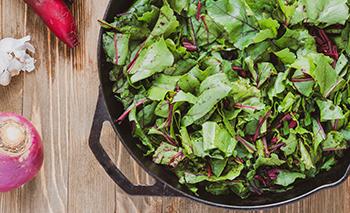 Beet greens are high in Vitamin K, copper, manganese, iron, and calcium, and are great for maintaining a healthy weight since they contain no saturated fat or cholesterol. They are also rich in nitrates, which improve oxygen levels in the body and boost athletic ability and exercise performance. Studies have shown that eating fiber-rich food like beet greens helps reduce appetite, resulting in lower calorie consumption.
Beet greens can be eaten raw, sauteed with olive oil and garlic, steamed, and added to salads or smoothies.
4. Swiss Chard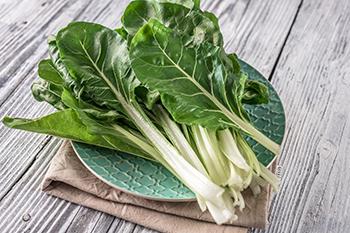 Swiss chard belongs to the Chenopodioideae family, which also includes beets and spinach. Its leaves and stalks are packed with vitamins, minerals, and plant compounds. A single serving not only supplies your daily recommended dose of Vitamin K, it also contains a healthy dose of Vitamin A, Vitamin C, and magnesium. Being high in fiber and low in calories, Swiss chard can help you maintain a moderate weight.
To consume, add chopped fresh Swiss chard to other salad greens, add it to a sauteed dish or stir fry, and add it to omelets. The leaves are extra-thick, so you can even use them as a tortilla substitute and make wraps.
5. Watercress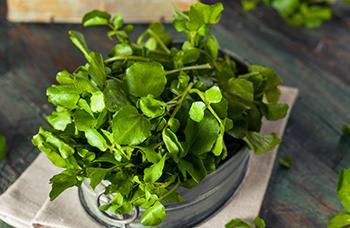 Watercress grows in natural spring waters and has a dark, leafy appearance. It contains a variety of beneficial compounds and micronutrients that support weight loss and athletic performance, namely Vitamins A, C, and K, iron, and fiber.
One of the main benefits of watercress when it comes to weight loss is its ability to prevent damage to cells and muscle tissues caused by exercise. These issues can increase your cortisol levels and result in higher numbers of toxic free radicals, both of which slow the weight loss process,
Enjoy watercress by sprinkling it on your salad, using it to replace lettuce in your salad, or blending it with garlic and olive oil to create pesto. It has a slightly peppery taste that adds flavor to a lot of dishes.
6. Mustard Greens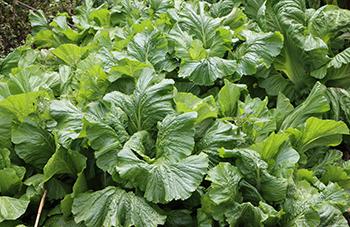 The mustard plant is most famous for its tiny, yellow seeds that produce one of the most beloved condiments on the planet. The greens are rich in fiber, which facilitates weight loss, as well as Vitamins C and K and beta-carotene, which neutralize toxins and eliminate them from your body.
Mustard greens have a strong and distinct flavor that many people love. You can mix them into a chopped salad, blending them into a smoothie, or stir-frying them in olive oil and lemon juice. They also taste great roasted and seasoned with spices and garlic.
Related: Add This "Unusual Nutrient" to Coffee or Tea, to Effortlessly and Fully Empty Your Bowels Every Single Morning (Learn More)
7. Cabbage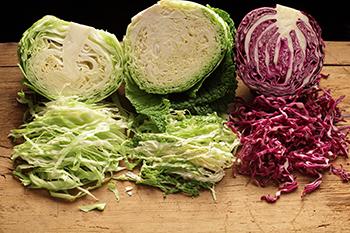 Cabbage belongs to the cruciferous family, which is known to reduce cancer risks. It is available in green, white, or purple varieties. A half cup of cabbage contains 50% of your daily Vitamin C needs, 100% of your Vitamin K needs, and small amounts of calcium, iron, magnesium, and vitamin B6.
There are few calories in cabbage. One cup of cooked cabbage has only 34 calories, making it a great weight loss option. In addition, it contains a high fiber content, which boosts energy levels and creates a feeling of fullness, so use it to make soups, ferment it, or boil it as a side dish when you're focusing on weight management.
8. Endive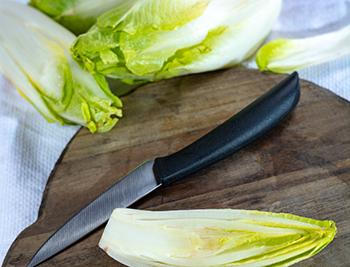 Endive is a member of the chicory family and known for its mild bitter taste. As with other leafy greens, endive is a healthy food that is packed with fiber, vitamins, minerals, and phytonutrients that can help you pursue and maintain weight loss.
There are 8.5 calories in one cup of raw endive, but the fiber content leaves you feeling satiated longer. Furthermore, fiber slows digestion, thus maintaining blood sugar levels and energy levels. To consume, add it to salads, soups, stews, and even braise it for a delicious side dish.
9. Collard Greens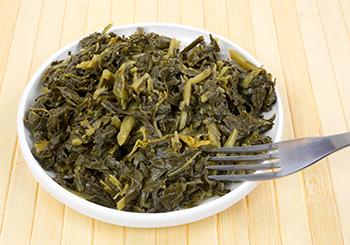 Collard greens have long been a staple of Southern cooking in the U.S., and today it enjoys a widespread reputation as a superfood. Collards are one of the most nutrient-dense foods: raw chopped collard greens have just 12 calories, one gram of protein and very little fat per cup. The same serving also provides more than 300% of your daily Vitamin A requirements, nearly 60% of your Vitamin C requirements, and 12%  of your iron requirements.
Being high in water and fiber, collard greens can help you feel full for longer. The increased satiety may lead to a lower calorie intake and, in turn, weight loss. Add them to any salad or recipe that calls for green leafy vegetables and use them to make wraps.
10. Bok Choy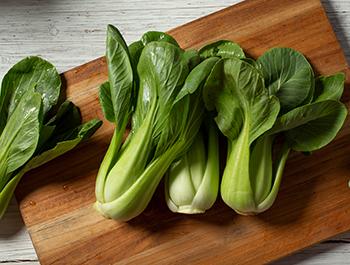 The mild flavor and satisfying crunch of bok choy make it one of the most popular vegetables in Chinese cuisine. One cup of cooked bok choy will give you nearly half your daily vitamin C, A, and K needs, and its high fiber content helps you regulate your blood sugar levels and weight.
A whole cup of bok choy contains only 20 calories, so it's a great way to add volume to your diet without adding a lot of calories. Add it raw to a salad for a refreshing amount of crunch, add it to soup, and include it in practically any type of stir fry.
Leafy greens have a high fiber content and are very low in calories, providing the body with the nutrients it needs to support a healthy metabolism and reduce cravings. These fiber-rich plants also provide bulk, which fills you up, and are rich in vitamins, minerals, and plant-based substances that can protect you from heart disease, diabetes, and even cancer. The benefits exceed weight loss alone, which is even more of a reason to make them a staple part of your diet.
You may also like:
Ancient Japanese Tonic Melts 54 LBS Of Fat (Drink Daily Before 10 am) (Video)
Hot Or Cold Water? How It Can Affect Your Digestion